You will find that, as you go out in search of money to fund your post-secondary education, a lot of questions are going to surface. Naturally, being that we are the largest independent and dedicated resource to scholarships and financial aid on the web, we have a lot of answers. Below, we have a list of some of the most common questions, along with their answers. If you don't find an answer to your question below, check out our Scholarship F.A.Q. page.
How can the average student find financial aid for college?

Students searching for financial aid should begin by filling out a FAFSA and by applying for scholarships. FAFSA submissions can earn students thousands in aid. Many students are worried that their parents' average income will impede their search for financial aid. That's not true. Restrictions on availability are not as strict as students think. Even if students are ineligible for free grants, they may receive aid in the form of government loans: these carry much lower interest rates than private loans. Scholarships are another great funding option. There are countless scholarships out there, and many are not merit based. There are the normal, everyday student scholarships, and then there are the downright kooky scholarships. To find both , students can perform a free search at Scholarships.com. With over 2.7 million scholarships, they are bound to find something.

Are scholarship searches reliable?

Some of them are. Naturally, Scholarships.com is not only legit, but also the best way to find the most current information about scholarships. Not only are we on the up-and-up, but we make sure all the awards listed on our site are as well. If they so much as charge an application fee, we don't list them. Students should definitely be wary of services that ask for money. There is no need to pay to for a scholarships search. Scholarship providers are giving money away, not hiding it. Students should also stay away from websites that claim to do all of the work. Most scholarships require students to submit personal information, information that only students will know. Any site that suggests otherwise may be attempting to scam you.

Will scholarships affect my eligibility for financial aid?

They may. The government takes student awards into consideration when offering aid. However, students should not be deterred by this. The effects are not likely to be great. Many schools use student money to offset loan eligibility, not to offset free grant awards. Students who believe they may not be eligible for much aid can benefit greatly by applying for scholarships. Contrary to beliefs of certain celebutantes, more money equals fewer problems.

Are graduate students eligible for financial aid?

Yes and No. Graduate students are eligible to receive money in the form of scholarships, grants, fellowships and assistantships, but they are not eligible for the government Pell Grant. However, graduate students need not worry; there is plenty of non-loan aid out there. Myriad scholarship and outside grant opportunities may be found at Scholarships.com. Many graduates may also receive school grants, fellowships and assistantships; these are usually merit-based. Loans should be used as a last-case resort.

My parents have saved for my education; will this affect my eligibility for aid?

Yes. However, this should not discourage parents and students from saving. Free school grants are capped at $4,300 for the 2007-2008 year. Assuming that students will receive the full amount—many don't—they may still be lacking. Those who save should set up an account in a guardian's name. Less than 6% of parents' assets are considered to be potential college contributions. The percentage increases significantly if students own the money. Parents might want to consider using student money to buy college necessities such as laptops and living extras before submitting their FAFSA.

I didn't receive enough government aid. What can I do?

You have options. Students who did not receive sufficient aid can try to speak with financial aid administrators. They may be willing to help—especially if a students' financial situation has recently changed (e.g. job loss or new medical bills). Students may also apply for scholarships and grants, year round. As a last resort, students may apply for loans.

How do I know which lender to choose?

Students who choose to seek out additional aid through loans are likely to find preferred-lender lists at their college. Lists are generally generated based on low interest rates and service quality. However, students should always perform personal research. There have been issues with colleges receiving incentives for placing lenders on preferred-lender lists. When researching, students should compare interest rates, on-time payment benefits, penalty charges and additional fees.

What is the difference between loans, grants and scholarships?

Grants and scholarships are both free monetary awards: they do not need to be repaid. Grants may be offered without service requirements (Pell Grants) or with research requirements (usually the case with graduate students). Scholarships are awards that may be awarded based on merit, talent, major, ethnicity etc. They are not restricted to top students. Plenty of average-student scholarships are out there. Loans need to be repaid, with interest. The government offers the best interest rates on loans. Government guaranteed loans and completely private loans tend to be more expensive.

What's this I hear about 529 Plans and Roth IRAs?

Students and parents who can put college money aside should take advantage of student savings account tax incentives. Certain accounts are especially created with students in mind. Oftentimes, the deposited money can grow tax-free. Some accounts, though not created for students, offer tax breaks if funds are used for college. The most popular savings account options are the 529 Plan and the Roth IRA. Additional options include the Coverdell and the UTMA.

Are there any other things I can do to lower college costs?

Aside from scholarships, FAFSA, fellowships, and tax breaks, students may consider working. Students who are eligible for Federal Work Study may look into part-time job options. Federal student jobs are usually flexible when it comes to scheduling. Non-federal jobs are usually plentiful on campuses as well. Because there are so many potential workers, the 10 fast-food joints on each block may be willing to accept odd hours if someone is around at all times.

Are there any tax incentives for attending college?

There best known tax incentives are those for 529 savings plans. Many parents don't realize that there are more breaks out there. The Hope Credit and the Lifetime Learning Credit will allow parents to reap some benefits from this college piggybank drain.

How can I increase my chance of landing scholarships?

There are plenty of ways to increase the chances of winning. One of the best is applying for very specific scholarships. Students are more likely to win if the award is restricted to those within a certain city or major. Scholarships.com helps students find these types of scholarships. Based on profile answers, Scholarships.com can show students a listing of scholarships they are eligible to win.

To increase the chances of winning, students should also apply early. Some scholarship programs receive submissions from many applicants. Students who apply early are less likely to have applications lost in a pile of submissions. Last but not least, students should remember to pay attention to all regulations. They should only apply for scholarships they are eligible for and should always remember to proofread their work.
And don't forget, you should pay for your college education with as much free money as possible! Find as many scholarships and grants as you can before turning to student loans. Visit the Scholarships.com free college scholarship search today where you'll get matched with countless scholarships and grants for which you qualify, then apply and win! It's that easy!
Comments (0)
There are so many things to think about when entering college. Financial aid for tuition, room & board and book expenses initially come to mind, but many forget another important expense—medical insurance. Before students head off to college, they need to seriously consider future medical aid options. Those with a history of ailments are likely to explore their options, but so should the poster children for health. Unfortunately, a large portion of health-related issues surface during adolescence. The fact that college students are frequently stressed out and sleep-deprived sure doesn't make things better.
Student Insurance Under a Parent Policy
In more ways than one, students who enter college are better off than those who finish school at 18. Those who are considered dependents under the health insurance plans of parents are frequently given the boot on their eighteenth birthday - a not-so-nice way to be welcomed into the adult world. Those who head off to college, however, continue to be dependents under their parents' plan for a few more years (usually until they turn 23 or 25). This typically applies to full-time students only. Those who are enrolled part-time may be ineligible or forced to hand over additional cash.
Student Insurance Under a College Policy
Schools typically offer their own college insurance plans for those who choose to take advantage of them. Oftentimes, students are automatically charged for this service unless they let schools know they are uninterested. Some states require entering students to be medically ensured. If that is the case, students who choose to reject school offers must show proof of alternative coverage. The costs of college insurance vary greatly, but they are frequently less expensive than private options. This tends to come at the expense of quality.
Graduate Student Insurance
You may have noticed that full-time students can retain a parent plan until they turn a certain age—a few states extended the eligibility age to 30. More often, however, students may be cast aside during their low and mid twenties. According to a Commonwealth Fund report, about 30 percent of the nation's estimated 44.4 million people without health insurance are 19-29 years old. This makes them the largest group of newly uninsured. Graduates students with no income and plenty of expenditures are not pleased. Schools do take graduate school students into consideration, but they do so at a cost. For example, the University of Illinois Champaign insurance policy for the 2007-2008 year is $180 for undergraduates; graduates have to pay $256. College students do have options, but they need to be prepared.
When putting aside college funds, expect the unexpected. Scrapping together additional 529 plan money and applying for a few more scholarships may be in order.
Going to college doesn't have to break the bank or saddle you with tens of thousands of dollars in student loan debt. Check out the Scholarships.com free college scholarship search where you'll discover you qualify for hundreds of thousands of dollars in scholarships in just a few minutes, then apply and win! It's that easy!
Comments (0)
With an increasing number of students taking and passing AP tests during their senior, sometimes junior, years of high school, early college graduation is an option for many. At numerous schools, entering college with AP credits is the norm—and I'm not just referring to the Ivy Leagues. When students enter their freshman year with sophomore status, they may have to decide if early graduation is a good option for them. Here are some things to consider before deciding whether to leave or to hang around.
FinancingLet's start with the practical. For some students, financing is not a problem. They can afford to stay the whole four years—or will choose to stay, regardless of financial need. For others, this is not the case. Students who are already burdened down by loans may want to seriously consider early graduation. Yes, the college experience is important, but so is the post-college experience. Travel issues may not be a big deal until you find that a college bus doesn't circle your workplace every seven minutes. You will need a car and your may want a new place to stay. Students should also remember that additional expenses kick in after college. You may be unable to claim dependency on medical insurance and tax returns, you don't get good-grade discount on car insurance, and your movie tickets will cost more than $8—at least in the city.
Interests
Even those who are passionate about their major are likely to have unrelated interests. Most colleges do force students to take classes outside of their major, and, whether students like it or not, they will get a taste of something else. However, many students find ways to get around these requirements. They turn the opportunity to explore interests into the chance to take classes that scream experience on a resume or ones that scream easy credit—I'm not saying that I'm not guilty.
College is a great place to take classes that are odd and interesting, even if they require additional work. I wish I would have taken that class on Middle Eastern relations. It may sound odd to you, but it sounded cool to me. It would have made my hard life harder, but when am I going to get that chance again?
If you like college and want to explore options before leaving, you should do so. Just don't stretch your reasoning for doing so. When I spoke to my counselor about leaving early, she was adamantly opposed to it. "Think of all those things you wanted to do," she said.  "You can take those ice skating classes you have always dreamt about." Ice skating? I don't want to skate, especially if it costs $13,000 per year.
Those who have their minds made upIf you're reading this article because you know what you want but need help getting there, here are my suggestions. Know that to graduate early, you need to stay organized: you need to plan ahead.
Get a list of graduation requirements. Check your college department website or contact your counselor for a list of required classes as they relate to your major. Take note of how many total credits, not just which classes, you will need. If you plan to graduate early by taking additional classes, split them up between semesters and, if possible, take some over the summer.
Pay attention to seasonally-changing classes. Some advanced-level classes may only be taken after the lower levels are accounted for. However, both levels may not be offered each semester. Take the lower levels as early as possible to make future scheduling easier. If this is your last semester and the required Biology 205 and Chemistry 302 are offered at the same time, you may have a problem. I know. You totally would have taken Bio 205 if it was offered last semester.  Don't worry, this scenario is very avoidable.
Let your counselor know. Oftentimes, students need to declare their decision to graduate months ahead. Schools, especially big ones, assume that you will graduate within a certain amount of years. Let your counselor know about your plans, and ask who else, and when, needs a heads up.
Don't be swayed. Counselors are there to help you, and it's always good to take outside opinions into consideration. However, counselors cannot figure you out after a few meetings, and their experience with other students does not always apply to you. If you know what you want, don't ask if you can. Ask how you can.
And remember, there's no need to rely on expensive student loan options to pay for your college education. For more information on finding free scholarship money for college, conduct a Scholarships.com free college scholarship search today, then apply and win! It's that easy!
Comments (0)
Effective October 15, 2007, College Board will no longer accept student loan applications. College Board, best known for administering the SAT and AP tests, announced its decision to leave the lender industry on August 22nd. In a press release, College Board stated that legislation aimed at curbing unethical relations between lenders and colleges made it too difficult to cover costs associated with education professional meetings. 
The legislation was created as a result of findings that numerous lenders made payments to colleges in exchange for spots on college preferred lender lists. Legislation included a more concrete definition of a lending institution—which categorized College Board as a lender—and restrictions on lender payments to financial aid officials. Although College Board does not itself lend money to students, it receives payments from lenders for allowing students to sign up. As it is now considered a lender, it can no longer offer funds to the financial aid officials it works with.
The meetings College Board convenes for education professionals are now subject to strict regulations. Under new rules, College Board would no longer be able to reimburse members for travel and lodging expenses.  Edna Johnson, a College Board spokeswoman stated, "If we no longer reimburse the educators, then only those educators from schools, colleges and universities with the financial resources to pay for the travel and the accommodation would attend." The meetings held by College Board include discussions of practices for assisting families in paying for an education and tactics for effective administration of financial aid programs.
The new decision is likely to affect lenders more than it does College Board and the students who search for financial aid. According to the Washington Post, College Board issued 74,000 loans valued at $400 million in 2007, and the year is not over. However, less than 1 percent of College Board's revenue comes from the lending sector.
Students who signed up with College Board aren't the losers in this decision either. Those who wish to take out loans with companies represented by College Board may still do so by contacting lenders directly. They may be forced to do some extra research, but that's a good thing. 
And don't forget, you should pay for your college education with as much free money as possible! Find as many scholarships and grants as you can before turning to student loans. Visit the Scholarships.com free college scholarship search today where you'll get matched with countless scholarships and grants for which you qualify, then apply and win! It's that easy!
Comments (0)
That I needed to fill out a FAFSA was a given. All counselors advised students to search for aid, and it seemed wrong to miss out on the opportunity—especially when other students came home with awards. Admittedly, applying was a bit confusing (but worth it). After receiving my FAFSA award letter, however, I was totally mystified. There were columns for college grants, Stafford Loans, Perkins Loans and Federal Work Study. I didn't know if I had to accept all financial aid, if I could request more or if this was just my receipt. Out of fear for signing away my future home, I was almost ready to not sign anything. Thankfully, things became much easier after the first year (although the FAFSA part was still confusing). Knowing the basics made the award letter much easier to read.
Your award letter only reflects how much aid you are eligible for.
Using the information provided in your FAFSA, the amount your family can potentially contribute to your schooling is weighed against the actual cost of attendance. The award letter will reflect all federal, state and university offers of aid. This includes scholarships, college grants, and student employment. Financial aid gifts such as tuition waivers, assistantships, fellowships, resident hall advisor compensation and scholarships from organizations may not be listed until a school is notified about them. Your award letter is not a receipt. You will not take on a $5,000 loan by not responding, but you may lose some award money if you don't. You can take advantage of as much or as little of this money as you wish.
What You May Find
If you see any college grants in your letter, that's a good sign. Government grants are basically free money, and you should take advantage of it. Student loans are also common. Students may see awards for Stafford, PLUS, and Perkins Loans. While government loans are not free awards, they are a good bet for students who need to take out additional funding. The government provides students with interest rates that beat those offered by private loan companies. Federal Work Study is another pseudo award. Many colleges and universities will find work for students who would like to earn money. While such work is unlikely to make a student rich—much of it close to or commensurate with minimum wage—it is easy to find, and it is flexible. You are not required to accept any or all aid offered.Students may choose to decline some or all of their financial aid. Those who only wish to take advantage of free grant money may turn down the loans and federal work study funds. If a student needs $3,000 but is only offered $1,000 in grant money, they may use up their entire grant award as well as some or all of their loan award.Students unsatisfied with awards still have options.
Government Assistance May Not Be Enough
Students who feel they need more may speak to financial aid officials and request additional funds. Sometimes, schools may offer additional aid to coveted students or to those with new financial difficulties. Schools are not required to do this, so going in with a temper is not the best approach. Those who find no luck may still apply for additional scholarships, college grants and loans. Free grant and scholarship money is best, but additional, government-subsidized or private loans are available. Schools usually have a preferred-lender list for those who need to borrow, but it is important for students to conduct personal research on the side.
And don't forget, you should pay for your college education with as much free money as possible! Find as many scholarships and grants as you can before turning to student loans. Visit the Scholarships.com free college scholarship search today where you'll get matched with countless scholarships and grants for which you qualify, then apply and win! It's that easy!
Comments (0)
Depending on the hands it falls into, a credit card may serve as an ultra-convenient money stack, or it can—if I may be overly dramatic—lead to financial suicide. For those who can manage their expenses and pay their monthly balances in full, owning a credit card is a great idea. Walking around with large amounts of cash is dangerous, and buying online is quite a hassle a without a credit card. Emergencies that necessitate fast funding also come up, and when they do, a bit of debt pales in importance. As you probably know, building up a credit report is one of the biggest incentives for taking advantage of credit cards. Credit card companies know that many parents will take care of student debt, and they're not shy about making application offers to students. Booths with pizza and t-shirt giveaways fill up campus corners and busy sidewalks on sunny days. According to CBS, the average student is offered eight credit cards during their first college semester—no job required. Once students graduate, they are less likely to receive financial backing from their parents. With new expenses and student loans kicking in, graduate fledglings are considered to be bigger liabilities to credit card companies. Ironically, just when credit cards become most important, they become most difficult to come by. Renting an apartment involves a credit check, as does taking out a car loan and a home mortgage. People with bare credit reports are big question marks to sellers, landlords and credit card companies. If there is little or no credit history on your report, you may find yourself staring at bigger bills or doorknockers. I'm not saying it's impossible to make it without a credit card, but having one sure does help. Good track records with a national credit card such as Master Card, Visa, and Discover (lesser-known store cards may not contribute to credit ratings) give lenders some evidence of dependability. Unfortunately, many students have a hard time creating a positive track record, and therein lays the problem. Students frequently look to credit cards for tempting pick-me-ups and tuition aid. Don't get me wrong, not all indebted students are shopoholics, but those who look to credit cards for financial aid might want to look elsewhere.
Scholarships, grants, jobs and less expensive student loans are a student's best bet because late payments may hurt in more ways than one. They will show up on credit reports, result in $20-$25 late bank fees, and lead to increases in credit card penalty charges. If you handle your credit card wisely, you won't need to worry much about penalties and annual percentage fees, but you should definitely shop around before applying. Search for a card with the lowest fixed annual percentage rate (APR). Numerous cards will start you off with a low APR but raise the rate after 6 months. Also, be on the lookout for standard annual fees. There are cards that charge standard usage fees, regardless of payment history. Look for those that don't. Once you build a good payment history, you may receive credit card offers galore. Little cards with your school logos may arrive in your mailbox. Yes. That's cute. Chase knows that you go to the University of Illinois, but you already have a card. Refrain from getting another one. According to the United Marketing Service (UCMS), the average Joe carries 2.8 credit cards in his wallet: don't be Joe. When you apply for a new card or loan, a credit inquiry will be recorded on your report. The more inquiries are made, the lower your credit score. I know, just because you want a discount on American Eagle jeans does not mean that you will not pay your bill in full. Unfortunately, lenders may assume that credit inquiries suggest financial need—even if they don't. If you can stay on top of your expenses and limit the number of credit cards you own, you should take advantage of college application offers. As long as you can control the card before it takes control of you, using a credit card can bring you one step closer to a secure financial future.
Going to college doesn't have to break the bank or saddle you with tens of thousands of dollars in student loan debt. Check out the Scholarships.com free college scholarship search where you'll discover you qualify for hundreds of thousands of dollars in scholarships in just a few minutes, then apply and win! It's that easy!
Comments (0)
Ever been told to finish what you started? That's not bad advice. Students are being taught the value of a good education, and the counsel is working. College entrance rates have been going up for years. Classrooms are filling up, and dormitories are busting at the seams. Whether or not students are graduating is a different story.
According to a study conducted by ACT, a not-for-profit organization providing research services, only 74.5% of first-year students attending public four-year colleges return the following year. Those attending private four-year colleges fared a bit better, but barely. Graduation rates at private colleges were only .7% better than those at public ones, down from 5.8% in 1988. Sending a student to a more expensive private college is unlikely to solve the problem.
And arguing that these students are simply transferring doesn't cut it either. According to an article released by the Associated Press, only 54% of students who entered a four-year university in 1997 had a degree six years later. Unless you're Van Wilder, you should have something to show after six years.
Despite a spike in the number of students who attend college and obtain degrees, a high dropout percentage continues to be a problem. As a matter of fact, the rate is the same as it was in 1988. So many more ambitious students are vying for each college spot, but about one in four still quits after the first year. What's the problem?
According to the ACT survey, the top two factors contributing to student failure were lack of motivation and inadequate financial resources. These two problems can be solved, but students need to take matters into their own hands.
Lack of student motivation was ranked as the biggest determinant of college failure—even more than a student's academic fit for a particular school. This means that a student who can get their act together need not be discouraged by campus nerds. Hard work beats talent when talent doesn't work hard.
Students should also keep their future in mind during stressful college times. Those who have yet to pinpoint a career may have a hard time identifying goals, but obtaining a degree is a great goal in itself. A degree gives students options. Those who change their minds about future plans may always return to school. In the mean time, a degree gives students something to fall back on.
As you surely know, more jobs than before require degrees. In fact, degrees are just the beginning. It is not uncommon for an employer to look your resume up and down and declare that your impressive background would make you a perfect fit for the company: no one would match your paper-filing skills.
The second biggest obstacle standing between a student and their degree was financial need. Students who spend a bundle on their education may suffer financially after dropping out. No education and no money is not a good combo. There are plenty of financial aid options, and students should take advantage of them.
The best money is, of course, free money. By filing a FASFA and searching Scholarships.com for grant and scholarship opportunities, students have the chance to find free college funding, no strings attached. Those who can save ahead of time should look into setting up a college savings account. Some good choices may be the 529 and the Coverdell as they allow students to accumulate money, tax-free. For more savings account options, visit the Scholarships.com Resources Section. Loans, as a last resort, can generally be obtained at lower rates when borrowed from the government. Take advantage of any aid offered. Don't leave your purchase at the door: get the degree and the education you paid for.
And don't forget, you should pay for your college education with as much free money as possible! Find as many scholarships and grants as you can before turning to student loans. Visit the Scholarships.com free college scholarship search today where you'll get matched with countless scholarships and grants for which you qualify, then apply and win! It's that easy!
Comments (0)
On Friday June 20, the Senate approved the Higher Education Access Act of 2007 by a vote of 78-18. The bill, if approved by the House, would increase Pell Grant eligibility and lower government subsidies to outside lenders. The House passed a similar proposal—the College Reduction Act of 2007—in June, making a compromise on both versions likely. The overarching theme of the bill was an increase in government aid to students and, at the same time, a decrease in aid provided to student lenders.
Lowered subsidies would likely result in increased interest rates for students who take out loans from lenders outside of the government. Government loans offer students the best interest rates, but such loans also have smaller borrowing limits. Many students end up looking to lenders subsidized by the government for additional aid. While interest rates on subsidized loans are not as favorable as those offered by the government, they are still more favorable than those offered by private, unsubsidized lenders.
According to MarketWatch, the new bill could save the government up to $15.4 billion by 2012. The bill's sponsor, Senator Edward Kennedy, D-Mass, was enthusiastic about the approval stating, "The passage of the Higher Education Access Act tonight was a victory not only for students and their families, but for the American people. With this new congress we made education a national priority again, and we've given the next generation the tools they need to compete in the global economy."
Fortunately for student borrowers, the bill did address worries about lender rate increases. Cuts on outside lender subsidies were also accompanied by increased caps on government loans as well as by increased laxity on government loan eligibility requirements. These changes are likely to benefit students who don't borrow much. For those that do, effects will depend on just how much more the government is willing to lend and on how much outside lenders will choose to charge after cuts.
Students still have a lot to cheer about. The biggest perk of the Higher Education Access Act is its proposal to increase government grant offers. Free money is the best kind. Like scholarships, grants provide students with aid that need not be repaid. If the bill is enacted, the government would increase the amounts of Pell Grants a student may receive to a maximum $5,100. It would also alter the formula used to determine grant eligibility in a way that would lessen restrictions on financial circumstances required for grant reception.
Additional bill provisions include loan forgiveness options for borrowers who work in areas of public service for ten years, a cap on monthly loan payments required of students, and the establishment of a program that would increase competition between lenders. If the bill passes, the enactment may be expected within the next few months.
Posted By Scholarships.com to Scholarships.com Blog at 7/20/2007 09:57:00 AM
Going to college doesn't have to break the bank or saddle you with tens of thousands of dollars in student loan debt. Check out the Scholarships.com free college scholarship search where you'll discover you qualify for hundreds of thousands of dollars in scholarships in just a few minutes, then apply and win! It's that easy!
Comments (0)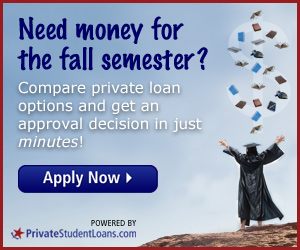 Recent Posts
Tags
Categories