The much-lauded new Income-Based Repayment plan for federal student loans has been available to student borrowers since July, but those who could potentially benefit may have difficulty enrolling in it. The Department of Education's Direct Loans website allows borrowers to enroll online in several student loan repayment plans, including the Standard, Graduated, and Income-Contingent options using a convenient drop-down menu. However, after over three months Income-Based Repayment is still missing from this menu, making it more difficult for borrowers to enroll in this plan, and possibly preventing some students from even realizing it's an option.
For many students who have large debt loads, are struggling to find work or are currently working low-wage jobs that make repaying student loans difficult, the new Income-Based Repayment plan may be their best option for repaying their federal student loans. It allows borrowers to only pay 15% of their discretionary income (their adjusted gross income minus 150% of the poverty line for their household size) once they've entered repayment, then cancels their remaining loan debt after 25 years of repayment. Borrowers enrolled in Income-Based Repayment can also take advantage of the 10-year public service loan forgiveness program, meaning they can make 10 years of affordable payments while working eligible public service jobs, then have their remaining debt forgiven.
Despite its appeal, though, students can currently only apply for Income-Based Repayment using a paper form, blank versions of which are available on the Direct Loans website, though not at all well-advertised. Students can eventually dig through the Direct Loans website to find it (we found it by clicking on the announcement in the upper right corner of www.dl.ed.gov, then following links through two additional pages), then complete it and mail it to the Department of Education. This is a somewhat time-consuming process, obviously, and may deter some borrowers who either lack the time or resources to locate, print and submit the form.
In addition to a missing online option and a buried enrollment form, the Direct Loans website also doesn't list Income-Based Repayment on their repayment options comparison site for logged-in borrowers (a calculator allows you to compare payments among Standard, Graduated, and Income-Contingent options but makes no mention of Income-Based Repayment). While a calculator is available through the Federal Student Aid website, it's not readily accessible from the Direct Loans site. To even choose Income-Based Repayment, then, borrowers will need to employ two different calculators on two different Education Department websites simultaneously, adding another confusing and time-consuming hurdle to the process.
According to The Chronicle of Higher Education, the Department of Education is aware Income-Based Repayment is missing from the online enrollment options on their site, but they don't plan to add it until March, citing a lack of resources due to the possibility Congress will soon switch all federal student loans to the Direct Loans program, as called for in a student loan bill currently under consideration. Hopefully, other revisions to the website will happen then, as well, but for students investigating student loan repayment options before then, enrolling in Income-Based Repayment will remain a hassle.
Going to college doesn't have to break the bank or saddle you with tens of thousands of dollars in student loan debt. Check out the Scholarships.com free college scholarship search where you'll discover you qualify for hundreds of thousands of dollars in scholarships in just a few minutes, then apply and win! It's that easy!
Comments (0)
Although community colleges nationwide have seen significant boosts in enrollment, a report released yesterday suggests many will be forced to put their educations on hold or find new sources of funding if their institutions continue blocking access to federal student loans.
The Project on Student Debt released the report, and despite their stance on promoting that students take on as low a student loan burden as possible, they say community college students are at risk for taking on riskier private student loans or watching their grades slip as they take on more work hours to cover gaps in funding because they aren't able to apply for and receive federal student loans. About one in 10 students in 31 states surveyed don't have access to federal student loans, and in some states, more than 20 percent of students can't get the federal loans. Minority students have less access to federal loans than other student groups, as the report found many minority students attending community colleges that don't participate in the federal student loan program.
Why have many community colleges moved away from offering federal student loans? In an uncertain economy, the answer is risk, according to the report. Defaults on student loans have begun to rise among not only community college students, but among all college students over the last few years. The report always says many community college administrators believe students shouldn't have to borrow to attend their schools. Tuition is lower, they say, and if students are saddled with large amounts of debt now, they could hurt their chances for qualifying for low interest rates and federal student loans if they were to transfer to a more expensive, four-year institution.
But some students do need the additional funding even at a low-cost option like a community college, especially in the current economic climate. According to survey results released by the National Council of State Directors of Community Colleges last month, about half of the nation's community colleges are expecting budget cuts and midyear reductions in their state appropriations. Many administrators in that survey also reported that stimulus money provided by the Obama administration went toward meeting existing budget deficits, and that they would be forced to raise tuition rates substantially despite record enrollments to make up for a lack of state funding. (The average tuition increase among community colleges is expected to be about 5 percent for the 2009-2010 academic year.)
While you should always exhaust your options with grants and scholarships first, student loans are often a necessary evil, and we have plenty of tips on how to go about applying for them and making sure you're getting the best rate possible. Never rely on credit cards to fund your education, or you'll run the risk of getting into more debt than you can handle not only post-graduation, but while you're still in school. Browse through our site for more information on your student loan options.
Going to college doesn't have to break the bank or saddle you with tens of thousands of dollars in student loan debt. Check out the Scholarships.com free college scholarship search where you'll discover you qualify for hundreds of thousands of dollars in scholarships in just a few minutes, then apply and win! It's that easy!
Comments (0)
The economy has made college admission totals difficult to predict. Many community colleges are seeing significant increases in the number of students applying to their schools, perhaps as a result of more adult students seeking to pick up new skills to make themselves more desirable in a tough job market. Some private colleges have faced declining enrollments as students look for more affordable options when considering which school they'll attend in the fall, while others that have maintained generous financial aid packages have experienced an increase in applicants.
Ithaca College can't complain about declining enrollment. The Chronicle of Higher Education reported this week that the New York school has offered 31 students $10,000 each to defer their enrollment for one year. Ithaca's target for new freshman was between 1,700 to 1,750. They ended up with an incoming fall class of 2,027, or 20 percent more than expected. Sure, having a larger class is better than seeing significant decreases in enrollment, but enrolling more freshmen than the school can handle won't only affect the college's bottom line as they adjust this year, but the four years that large class will be moving through the ranks. The school will also be forced to enroll fewer students over the next few years, making it harder to recoup any losses in spending this fall.
According to the Chronicle, the college had to make several other adjustments to prevent a repeat situation and compensate for the extra funding they'll need to get through the next four years with a larger class:
Raising admissions selectivity for the fall of 2010 to bring in fewer applicants from the beginning.
Building a temporary, $2.5 million residence hall.
Reinstating early decision.
Providing reduced rates on room charges and paying cable bills for students housed in lounges.
Providing $2,000 in incentives for upperclassmen to urge them to move off campus.
Hiring additional instructors.
Allowing for additional financial aid funding.
The Chronicle suggests missing the admissions mark by this much is rare. Ithaca had been seeing declining admissions numbers up until this point, so they worked harder this year to boost enrollment. Ithaca also accepted 73 percent of its 2009 applicants, compared with 59 percent in 2008. Administrators at the school maintain a positive outlook, and say that while they did need to spend some to get the situation under control ($250,000 for those deferred enrollments alone), they plan to come out with a modest surplus.
Going to college doesn't have to break the bank or saddle you with tens of thousands of dollars in student loan debt. Check out the Scholarships.com free college scholarship search where you'll discover you qualify for hundreds of thousands of dollars in scholarships in just a few minutes, then apply and win! It's that easy!
Comments (0)
From best dorm food to greatest contributions to the social good, regardless of the criteria you're using in your college search, there are likely lists available to help you find the best colleges to fit your needs. The latest college scorecard to emerge this college application season is the College Sustainability Report Card, an annual publication that grades public and private colleges and universities nationwide on eco-friendliness. For students who are passionate about the environment and want to attend a college that shares their concerns, this may be a useful list to check out.
The Report Card has been in existence since 2007, when it began grading the schools with the largest endowments on sustainability efforts. This year, it opened up its survey to other schools, promising to include any institution willing to pay $700 to offset the additional costs of research and reporting. The 2010 Report Card graded 332 schools, ranging from small private colleges to flagship state universities, with 26 schools earning the highest grade of A-. Over half of the schools surveyed earned a higher grade this year than last, despite budget cuts brought about by losses in endowments and state funding due to the recession.

In addition to the overall grade, report cards for each institution also feature grades in the following categories: administration, climate change and energy, food and recycling, green building, student involvement, transportation, endowment transparency, investment priorities, and shareholder engagement. Some of these individual scores may be especially useful elements of the college search for students interested in becoming engaged in their campus communities and contributing to the greening of their colleges. Low scores can point to things students can help improve (such as implementing recycling programs on campus), and high scores in student involvement can indicate a community of like-minded individuals willing to collaborate to bring about change.
Beyond incorporating sustainability into the criteria you use in choosing a college, eco-minded students may also want to look into the opportunities for green scholarships available. These awards may point to additional ways to help the planet, and they can also help you pay for school at your green college of choice.
Going to college doesn't have to break the bank or saddle you with tens of thousands of dollars in student loan debt. Check out the Scholarships.com free college scholarship search where you'll discover you qualify for hundreds of thousands of dollars in scholarships in just a few minutes, then apply and win! It's that easy!
Comments (0)
Hispanic students are still significantly lagging behind other groups when it comes to college admission, retention and graduation rates, according to data released by the U.S. Census Bureau and the Pew Hispanic Center. The Pew study released today attempts to explain why those gaps remain, especially as a majority of Hispanic students report that they understand the value of a college education and are urged by their parents to pursue bachelor's degrees.
The numbers from the U.S. Census Bureau, which date back to 2007 and were released last week, show that only about 19 percent of Hispanics report having attended some college or pursuing associate's degrees; only about 9 percent go on to complete their bachelor's. The national average for some college attendance or those completing associate's degrees is about 25 percent, with nearly 19 percent completing bachelor's degrees. About 26.5 percent of white students reported attending some college or completing associate's degrees; nearly 21 percent complete undergraduate degrees. Female Hispanic students seem to fare slightly better than the men.
The Pew Hispanic Center's study showed that although Hispanic students today are more likely to go to college than they were in 1970, perhaps due in part to the rapidly growing population, there is still a large disparity between those who say everyone should go to college and those who actually do. While nearly 90 percent of Hispanic students surveyed (ages 16-25) said that it was important to get a college degree to get ahead (compared to 82 percent of the general population that agreed with that statement), only about half said they had plans of their own to go to college. And among Hispanic immigrants, less than a third say they have plans to pursue a bachelor's degree.
So why the gap? About 74 percent of respondents in the Pew study said they had to cut their educations short because they had to support their families. Others said poor English skills hampered their ability to keep up with the rigors of college, and even high school. According to Latinosincollege.com, a website that aims to help more Hispanics graduate from four-year colleges, Hispanic students still have the highest high school dropout rate of any group.
Financial obstacles were a concern for about 40 percent of respondents in the Pew study who said they simply could not afford to go to college. While some of the other reasons may be hard to address and improve upon, financial aid and paying for college should not keep the collegebound from getting an education. Scholarships for minorities, including the growing number of Hispanic scholarships, are some of the most common student-specific scholarships out there, so for those putting their college plans on hold because of finances, be sure to conduct a free scholarship search to view all of the scholarships you're eligible for.
Going to college doesn't have to break the bank or saddle you with tens of thousands of dollars in student loan debt. Check out the Scholarships.com free college scholarship search where you'll discover you qualify for hundreds of thousands of dollars in scholarships in just a few minutes, then apply and win! It's that easy!
Comments (0)
While prospective college freshmen are already beginning to fill out their college applications in preparation for fall application deadlines, transfer students traditionally enjoy a bit more leeway. However, the sharp state budget cuts and larger enrollments in community and state colleges this year may mean that students planning to transfer from a two-year to a four-year school will want to get their applications together as early as possible this year.
California, a state whose severe budget crisis has made it something of a canary in the mineshaft for most funding issues this year, has recently begun turning transfer students away in droves from its four-year public colleges. The reason: the state university systems have had to cut back enrollments across the board, and after many decisions had already been made for the academic year now underway, in order to deal with a sharp decrease in available state funding for the current fiscal year.

This means that many conditionally admitted transfer students have been told they need to wait a year or look elsewhere, simply because they didn't correctly complete all the necessary steps far enough ahead of time to secure seats in state universities for the fall and spring semesters this year. This leaves students applying last-minute to pricey private colleges, vying for seats in courses that likely won't even count just to kill time until the next admissions cycle, or even dropping out for a semester or more.  The state's budget picture shows no signs of improving, meaning transfer students will likely need to contend with the same situation next year, as well.
While other state university systems haven't had to cap or reduce enrollments or close budget holes to the same extent as California, a decrease in funding coupled with an increase in interest in state and community colleges may still result in wrenches being thrown in many students' transfer plans. More students at community colleges will make it harder for some students to get into classes they need to complete to successfully transfer to a four-year college. More students applying to state colleges means available seats may fill up faster and transfer applications may be delayed. It can also mean stiffer competition for financial aid, such as transfer student scholarships. Like in California, it could also mean that students whose transfer applications are not perfect the first time may see their plans derailed, or at least delayed, much more easily than in previous semesters.
Because of these concerns, students who are planning to transfer from a community college to a state college (and also students considering a move between four-year schools) will want to stay in touch with their academic advisors this year and complete all required steps as quickly as possible. Make sure you are applying for admission and aid well ahead of deadlines, and make sure you're meeting all requirements to ensure a smooth transfer process. Staying on top of things this fall can save you headaches, and possibly money, when it's time to switch schools.
Going to college doesn't have to break the bank or saddle you with tens of thousands of dollars in student loan debt. Check out the Scholarships.com free college scholarship search where you'll discover you qualify for hundreds of thousands of dollars in scholarships in just a few minutes, then apply and win! It's that easy!
Comments (0)
The Federal Reserve Board proposed new regulations last week that would prohibit creditors from issuing credit cards to anyone under 21 without the consent of that applicant's parent or guardian, or proof that the consumer would be able to make the required payments on their own. Those rules would amend some of the provisions in the Credit Card Accountability Responsibility and Disclosure Act of 2009, a bill passed by Congress last May that, among other things, would hinder credit card companies from getting college students to sign up for offers at on-campus booths.
You know you've seen it before - the free T-shirt that you probably wouldn't wear, but was appealing anyway because it was free. All you had to do was sign up for a credit card. An article in The Chronicle for Higher Education when the bill was first moving through Congress described college students as the most targeted population when it comes to new customers for credit card companies.
Critics of the bill then said that college students, who take on a slew of new responsibilities once they get on campus, should be treated as adults. And during a time when students are more apt to use credit cards to pay for college expenses, they shouldn't meet obstacles when using their credit cards for college expenses. According to a recent survey by student lender Sallie Mae, 84 percent of undergraduates have at least one credit card; 92 percent of those undergraduates use the cards toward college expenses. College students' average balances are more than $3,100.
So what's the bigger problem? Having access to credit to pay for college expenses, or preventing college students from accruing large sums of debt?
Credit cards should be used as the last line of defense, and ideally for emergencies only. There are many options out there for you to find money for college that have nothing to do with being faced with high interest rates and exorbitant fees. Do your research to apply for college scholarships and grants that would result in free money to cover your college expenses. Consider a part-time job on campus if you have the time and can balance work and college. And while not as desirable, investigate low-interest student loans to supplement your financial aid package.
If you need to use credit, make sure you're keeping within a manageable budget, and only charging as much as you'd be able to realistically pay off at the end of the month. The decisions you make now will matter post-graduation, and any decision involving opening a new line of credit should be approached with caution. Stick to one card if you need one, and if you find yourself in debt, pay off as much as you're able to each month until you're done. (Don't be using that card while you're trying to pay it off, though.) Browse through our site to see more tips on budgeting, how you can avoid mounds of credit card debt, and how to keep your credit card score healthy.

The new regulations would go into effect after Feb. 2010, but the public, credit card industry and others will have a chance to voice their opinions beforehand. Other rules proposed by the Board included:
Limiting high fees associated with subprime credit cards.
Prohibiting increases in a credit card interest rate during the first year after an account is opened, and increases in a rate that applies to an existing credit card balance.
Requiring creditors to obtain consumers' consents before charging fees for transactions that exceed their credit limits.
Going to college doesn't have to break the bank or saddle you with tens of thousands of dollars in student loan debt. Check out the Scholarships.com free college scholarship search where you'll discover you qualify for hundreds of thousands of dollars in scholarships in just a few minutes, then apply and win! It's that easy!
Comments (0)
For high school seniors entering the last leg of the college search this fall, questions and frustrations are bound to arise, and the early source of confusion this year appears to stem from standardized testing. The final SAT and ACT test dates before college applications are due take place this month, meaning more students will soon have their first encounter the College Board's SAT Score Choice program, which allows students to choose which SAT Scores they want to report to colleges.
On the surface, Score Choice seems like a great innovation and a source of stress relief for students, and it might prove to be such if it were accepted by all colleges. However, a number of colleges and universities require applicants to report all scores from all standardized tests taken, and this is where students are running into problems.
Specifically, not all schools that require the Common Application, an application shared by many private colleges and intended to simplify the application process, share policies on reporting SAT scores, yet the Common App currently doesn't allow students to self-report different SAT scores to different schools. This has left students unsure of how to address what should be one of the easiest sections of their college application (after all, it's just transcribing numbers).

New York Times writer Jacques Steinberg took up this question for the paper's blog The Choice, and his answer should help students get over this bump and onto the more difficult parts of the Common Application, like the application essays. The advice he received when posing this question to the executive director of the Common Application was to simply leave the section blank. The College Board echoed this in a written statement.
Basically, since colleges will receive the official SAT scores (or ACT scores) you report to them when you take the test, they don't need you to also self-report on the Common Application. The question is asked only because some colleges take self-reported scores into account to get the ball rolling on the admissions process while waiting for your official scores. So if you're completing the Common Application and have multiple test scores that you don't plan to report to every college on your list, you can safely abstain from self-reporting your SAT scores.
However, the jury's still out on whether Score Choice will ultimately be worth the hassle it's begun to present to schools and students this year. Opting to withhold your lowest test scores may not make that big a difference in your admissions prospects, anyway, since taking the SAT multiple times was popular before withholding scores was even an option. In fact, some schools use your highest scores from all test dates, even dates with lower composites, when considering your application for admission or university scholarships, so withholding the test score where you finally nailed the verbal but completely tanked on the math section could conceivably hurt your prospects slightly in some cases.
And don't forget, you should pay for your college education with as much free money as possible! Find as many scholarships and grants as you can before turning to student loans. Visit the Scholarships.com free college scholarship search today where you'll get matched with countless scholarships and grants for which you qualify, then apply and win! It's that easy!
Comments (0)
Chicago didn't win the Olympics, but something good has come out of the effort. This week's Scholarship of the Week comes from World Sport Chicago, which was created as the lasting legacy of Chicago's 2016 Olympic and Paralympic Bid to support the city's student athletes as they prepare to go to college. As part of the scholarship program, 56 students will be chosen to become World Sport Chicago Scholars and participate in Kaplan ACT Tutoring and a Chicago Scholars mentoring initiative. Of those 56, 16 student athletes will be chosen to receive renewable college scholarships worth up $10,000 annually.
World Sport Chicago was launched in September to help high school student athletes not only pay for college but be more prepared for the transition. The chosen scholars will get ACT prep help for the spring 2010 testing dates. The award is a good example of athletic scholarships that look at more than your abilities in your chosen sport.
Prize: 16 renewable college scholarships worth up to $10,000 annually.
Eligibility: High school juniors who live and study in Chicago and have participated in an Olympic/Paralympic sport for two seasons in the past three years. Athletes of all levels are encouraged to apply; the judges just want to see that you're committed to your sport, on whatever level you may be. Commitment to the Olympic values of Excellence, Friendship and Respect on the playing field in school and in the community will be considered during the evaluation process. Applicants must have a 2.5 GPA or better and be willing to perform the duties of World Sport Chicago scholars, which includes promoting Olympic values in the community.
Deadline: November 30, 2009
Required Material: An online application from World Sport Chicago, which includes three short essays, two recommendations and an unofficial high school transcript. Scholarships must be applied to accredited four-year institutions. Preference may be given to student athletes with high financial need.
Further details about the application process can be found by conducting a free college scholarship search on Scholarships.com. Once the search is completed, students eligible for this scholarship award will find it in their search results.
And remember, there's no need to rely on expensive student loan options to pay for your college education. For more information on finding free scholarship money for college, conduct a Scholarships.com free college scholarship search today, then apply and win! It's that easy!
Comments (0)
It's nice to know that in the event of a disaster, your school will be prepared. Colleges and universities nationwide already have contingency plans for situations such as fires, floods, and other on-campus emergencies. In anticipation of on-campus outbreaks of the H1N1 swine flu virus, colleges are also reviewing and tweaking their plans for dealing smoothly with infectious diseases on campus. While undergoing this process, one official on the University of Florida campus decided to do one better and prepare his college for another type of outbreak-a zombie attack.
The zombie attack disaster preparedness plan was initially posted on the University of Florida's e-Learning website along with response plans for other, more likely, disaster scenarios. The plan's author, e-Learning Support Services Manager Doug Johnson, composed it as a joke one night during a bout of insomnia while his office was working on strategies for handling a campus closure, then posted it to provide a bit of levity for fellow e-Learning staff members.
Highlights of the plan include humorous definitions of "zombieism" and "zombie behavior spectrum disorder," as well as a form for university employees to complete if they need to deal with undead coworkers. While it was removed from the University of Florida website shortly after discovery and publication by local media, The Gainesville Sun still has a copy available online.
While the University of Florida zombie attack plan was humorous in nature, zombies have been used to model disease outbreaks in serious contexts. Earlier this year, a group of Canadian graduate students modeled a zombie attack as a classroom exercise that is now slated for publication in the upcoming book Infections Disease Modeling Research Progress. Their zombie attack model could have useful implications for modeling and understanding the spread of other infectious diseases, including swine flu.
One of the jokes in Johnson's paper was an allusion to the field of Zombie Studies (which, sadly, is not yet a viable college major), but given the recent uptick in interest in zombies on college campuses, can it be long before zombies find their way into more standardized parts of the college curriculum? Perhaps we will soon see more eye-catching titles for college classes dealing with the undead.
And remember, there's no need to rely on expensive student loan options to pay for your college education. For more information on finding free scholarship money for college, conduct a Scholarships.com free college scholarship search today, then apply and win! It's that easy!
Comments (0)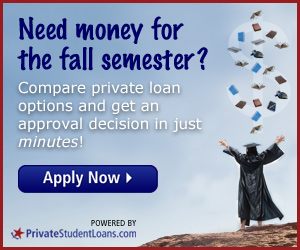 Recent Posts
Tags
Categories