by Susan Dutca
A new study reports that 2015/2016 college freshman embody an all-time high predisposition for civil engagement in the study's 50-year history. According to Mikhail Zinshteyn, political and social crime-fighting students hope to be the new brigade of community leaders and activists this year.
According to the Higher Education Research Institute, who surveyed 114,189 first-year students attending college full-time, 8.5% of students - regardless of race - said there was a "very good chance" that they would engage in student protests in 2015. HERI reports that this is the highest level recorded since its inception in 1967. Black students represented the largest increase in expected student activism with a 16% change from the previous year, where 10.5% of students expected to participate in campus-related demonstrations. Latino students represent a 3.2% increase from 2014 to 2015, where one in every ten Latino student (10.2%) reported a "very good chance" in student activism. 7.1% of white students - compared to the 4.6% in 2014 - also planned to be more involved in social-based demonstrations.
According to the study, every race has seen some level of increased desire to participate in student protests, demonstrations, and rallies. To what might we attribute this trend? Kevin Eagan, director of CIRP claims, "Student activism seems to be experiencing a revival, and last fall's incoming freshman class appears more likely than any before it to take advantage of opportunities to participate in this part of the political process...we observed substantial gains in students' interest in political and community engagement across nearly every item on the survey related to these issues." Another part of the survey records that 59.8% of incoming freshman were likely to vote in a "local, state, or federal election at any point during their college career," which is a 50.3% increase from 2014. According to Eagan, this could very well mean a strong interest and dedication to the community and political realm where college students' roles will "play a critical role in upcoming elections." Zinshteyn also notes the "political leanings" of these students as liberal or far-left, the highest percentage since 1973. Regardless of political affiliation, Zinshteyn notes the "emboldened political attitudes of these 18 and 19-year-olds mirror a rise in volunteerism and commitment to others...offering evidence disputing the view of younger Americans as narcissistic or incurious about the world."
Though the study focused on 2015, this group of individuals have the next four years to push forward their agendas and make an impact in the upcoming presidential election. This means a more politically-aware and knowledgeable body of students are scoping out their best candidate for social change.
Credit is attributed to Mikhail Zinshteyn, who is a contributing writer for The Atlantic and program manager at the Education Writers Association. He has also reported for The American Independent, where he covered state education policy, elections, and economics. Additionally, he manages the Education Writers Association's National Awards for Education Reporting.
And don't forget, you should pay for your college education with as much free money as possible! Find as many scholarships and grants as you can before turning to student loans. Visit the Scholarships.com free college scholarship search today where you'll get matched with countless scholarships and grants for which you qualify, then apply and win! It's that easy!
Comments (0)
by Jess Hanch
The FBI is investigating a Kent State University history professor for alleged ties to today's most talked about terrorist organization, ISIS. Professor Julio C. Pino has been under investigation for more than a year by an FBI "joint terrorism task force." The special agent who confirmed the investigation chose to remain anonymous. According to the agent, there is "no direct threat to the university". However, the professor will remain under investigation for his ties to the organization, and for allegedly recruiting students to join ISIS.
Pino openly supports Palestinians in the current Israel-Palestine conflict, and caused controversy on campus when he stated in class that scholars who supported Israel were "directly responsible for the murder of 1,400 Palestinian children, women, and elderly civilians". Although Pino converted to Islam in 2000, he confidently told reporters that he does not support the Islamic State (ISIS), nor does he discuss the terrorist organization in class. He also stated he has always been clear about his political views and "stands in defense for civil-liberties [by] fulfilling my duties as an American citizen by speaking out on issues that some people find controversial," including the Israel-Palestine conflict. In light of the investigation, he told reporters "I follow the law. I advocate that others do also. And I ask others to respect my freedom of speech as much as I respect theirs". This is his first FBI investigation, and he has a clean record.
Pino told reporters that neither the FBI nor Homeland Security had made him aware of the investigation in any way until now. He also had not heard anything from the University. Kent State's University Spokesmen Eric Mansfield told KentWired that "Kent State is fully cooperating with the FBI". The FBI Agent reported to KentWired that they interviewed several faculty members, and some of Pino's students about the accusation however there is no information yet about whether or not Professor Pino was interviewed. There is no further news on what will happen to Pino, and there have been no comments released from faculty or students. As of right now, Pino will continue to teach two history courses at Kent State this year, and will teach in the fall semester.
Although the FBI agent clearly stated that the campus is not directly in danger, the investigation is still prominent enough to make its way into the public eye. How do you stand on this issue? Do you support Professor Pino and his statement about his right to free speech? Would his past statements about the conflict in the Middle East be taken differently if he did not align as Muslim? Start a conversation and leave your comments below.
Going to college doesn't have to break the bank or saddle you with tens of thousands of dollars in student loan debt. Check out the Scholarships.com free college scholarship search where you'll discover you qualify for hundreds of thousands of dollars in scholarships in just a few minutes, then apply and win! It's that easy!
Comments (12)
by Susan Dutca
The history of beer dates back as far as the 5th century BC and is known to be one of the oldest beverages produced by mankind. However, MillerCoors might not cut it these days for beer aficionados due to the latest cultural trend: microbreweries and craft beer. From your local bar, to the stadium, and now in the classroom, the craft beer industry is starting to dominate its field with universities now offering programs that educate students on the hottest hops and beers to help them launch their careers in the craft beer industry, according to Lisa Rathke of the Associated Press.
Craft beer, as defined by the Brewer's Association, focuses on small-batch, independent, and traditional methods of brewing. The craft industry poses a threat to Big Beer, which fell 2% in 2014. According to industry statistics, craft beer now accounts for a 19% or more of dollar sales. What exactly accounts for this popularity? Some experts point to the "trendy hipsterism" - the "local vibe' that Big Beer just can't match. Brewer Association Director Paul Gatza attributes the increased marvel to beer drinkers' experimentation to brewery experimentation, increased appearance on retail shelves, the social aspect, and its portability. So why not keep up with the trend by becoming more educated and involved in the ever-growing industry?
But there's a catch: you must be at least 21 years of age. Oregon, Vermont, and California all have a minimum drinking age of 21 years and in so far as applying for the programs, students must wait till the legal age to begin their courses. Though the programs are intended to educate and place people in a up-and-coming field, the age at which people may apply may have them delaying their careers and plans until they have reached the age of drinking maturity. The average age for college freshman is 18 years old, while several may be 17 or 19 years old. That said, those intending to enroll in craft beer business courses must wait three to four years before applying and starting. Do you think the age requirement should be lowered?
Ranking at the top in the nation for the most breweries per capita, the University of Vermont offers an online business of craft beer certificate program and optional apprenticeship. According to program director Gregory Dunkling, students apply from all across the nation. Most beer-focused breweries started out five to ten years ago. Industry statistics reveal that in 2014, overall beer sales were up only 0.5% while craft beer sales increased by 17.6%. The U.S. far surpassed 4,000 breweries in September of 2015, and it had not crossed this barrier since 1873. A decade ago, Dunkling claims that home brewers, despite their strong home recipes, lacked "business acumen" - so they hired marketing, sales, and business operation staff. With increased competition in the industry, there's a demand for higher brewer knowledge, especially on the business side. UV's online class offers two separate courses: the Fundamentals of Craft Beer, and then a choice for focus on Digital Marketing, Sales, or Business Operations.
In 2013, Portland State University in Oregon began their online Business of Craft Brewing program and within a week, the class had filled all its seats. Found to be one of the "most successful professional certificate programs," it attracted international students who either "didn't want to necessarily go to college," or had already received a degree - they genuinely wanted to learn how to open their own brew pub, which required a bit more knowledgeable in marketing. Portland State University even offers a scholarship opportunity in craft brewing, titled Pink Boots Scholarship for a woman who earns income from the beer industry.
Also, San Diego State University's College of Extended Studies offers a similar professional certificate in the business of craft beer - from introductory courses such as "Exploring Craft Beer" to "Finance," students can venture into the field at local breweries, to get a hands-on learning experience in the craft beer industry. Students can receive their certificate in less than 1.5 years.
If you have a taste for microbrewery, viticulture, or any related fields of study, search for scholarships today and pursue your higher education dreams with the help of free college money.
And remember, there's no need to rely on expensive student loan options to pay for your college education. For more information on finding free scholarship money for college, conduct a Scholarships.com free college scholarship search today, then apply and win! It's that easy!
Comments (2)
Rolling Stone Magazine and Sabrina Erdely Sued by Defamed UVA Administrator
Jan 12, 2016
by Susan Dutca
Rolling Stone author Sabrina Rubin Erdely did not sufficiently research and verify a student's account of gang rape and neither did anybody else at the nationwide publication with a readership of nearly 1.5 million. It has since been discovered that the young women's story was entirely fabricated and that she has a reputation as a "serial liar."
After clicking early on in college and sharing a passion for the same rock bands, two UVA students began a friendship that would soon turn rotten. Little did Ryan Duffin know, "Jackie" would soon entangle him, several of his Phi Kappa Psi fraternity brothers, and UVA administrators in a gang rape allegation that would be reported by Rolling Stone Magazine, becoming the center of national controversy.
From the beginning, Duffin did not want to pursue anything beyond friendship with "Jackie." However, the woman who was identified only as "Jackie" in the magazine article wanted more. It was then that Jackie created a fictitious character, "Haven Monahan," whom she alleged she knew from chemistry class. New court documents report that Monahan was created by Jackie to "catfish" Duffin into her desired romantic relationship. Through texts, Jackie, posing as Monahan told Duffin how she felt about him.
In late September of 2012, Jackie told Duffin that her date with Monahan took a turn for the worse after he and several other rushing fraternity brothers had gang raped her. Duffin and a group of friends rushed to a hysterical and traumatized Jackie to comfort her. Jackie did not appear to be injured at all and her dress was not mangled or torn. She also refused to report the alleged incident to the police or even go to the hospital for medical attention. Two days after the incident, Jackie told Duffin she forgave Monahan, which left Duffin to seriously doubt Monahan's existence, as he claimed in an interview with The Washington Post: "I was wondering how I didn't see through it way earlier."
The story did not appear until two years later, in July of 2015, when Erdely contacted Emily Renda, a rape survivor and U-VA staff member working with sexual assault victims. Erdely, who was searching for a singular college rape case to report on the "pervasive culture of sexual harassment/rape culture" on college campuses was directed to what Renda called the "darker side" of the issue in fraternities. Erdely contacted "Jackie," who then recounted her gang rape experience. While at a fraternity campus party, "Jackie" claimed, she was lured to an upstairs bedroom around 12:52 am, where she was ambushed and gang raped. Ederly's 9,000-word story was published in Rolling Stone in November 2014. It was titled "A Rape on Campus."
Significant scrutiny and reports of multiple discrepancies resulted in an audit of the editorial processes leading up to the story's publication. The Columbia Graduate School of Journalism discredited the Rolling Stone article for a variety of reasons stating that the "assault could not have taken place the way it was described." For instance, the fraternity issued a statement that it did not host "a function or social event" that weekend, as was claimed by the alleged victim. The Washington Post also uncovered information in December 2014; reports that Jackie's friends claimed the "details of the attack have changed over time and that they have not been able to verify key points." The New York Times reported that police had "exhausted all investigative leads" to find "no substantive basis" for the Rolling Stone's article. The article was retracted and the magazine's managing editor and article's author both apologized. Ederly later acknowledged that she "did not go far enough to verify her story."
As a result of the fabricated story and the damage done to UVA Associate Dean, Nicole Eramo's reputation and filed a $7.5 million defamation lawsuit against Rolling Stone and Erdely for failing to perform the basic tenants of journalism. As a top administrator, Eramo stated she was cast a "chief villain" in the discredited piece. Lawyers are now asking for the alleged victim to produce text message and "other communications in the case" since it would expose her to be a "serial liar." Duffin stated that, "had any of us been contacted it never would have blown up like this," referring to the Rolling Stone magazine.
Going to college doesn't have to break the bank or saddle you with tens of thousands of dollars in student loan debt. Check out the Scholarships.com free college scholarship search where you'll discover you qualify for hundreds of thousands of dollars in scholarships in just a few minutes, then apply and win! It's that easy!
Comments (20)
by Jess Hanch
Recently Professor Melissa Click was caught on video pushing a student reporter's camera aside during a campus protest. After the incident, state lawmakers called for the professor to be fired due to her "treatment of the student journalists" after the student who shot the footage filed a complaint with campus police after the incident. Nearly a month later, more than 100 faculty letters were released defending Professor Click and her "mistake".
According to the Chronicle of Higher Education, Click grabbed student Mark Schierbecker's camera and asked for "some muscle" to limit the [student's] coverage of the protest at the University of Missouri. Schierbecker was filming student photographer Tim Tai who was also covering the event. Shortly after the incident, Schierbecker filed a complaint with campus police looking to press legal assault charges. He specifically told reporters "I pressed charges against Melissa Click [but] the Journalism school just filed a formal complaint with the Title IX office about her". The University of Missouri's police department stated that they are looking into the situation and will follow up with the complaint.
On top of the possible assault charge, Click received hundreds of threatening emails about the event prompting her recent decision to resign. She also issued an apology to the journalists involved in the incident, as well as the University's department of journalism. The two students had very different responses to her outreach. USA Today reported that Schierbecker found her apology "lacking", telling reporters he was "left with the feeling that she doesn't care". Tim Tai, however, was receptive to the gesture and accepted her apology. Tai told the New York Times that he "never had ill will towards her" and "felt bad when [he] heard she'd been getting threats". Tai also added "I think this has been a learning experience for everyone involved, myself included, and I hope this blows over for both of us".
Despite Schierbecker's complaints about Click's actions during the protest, other faculty members' sentiments are similar to Tai's. They consider the issue to be "at most a regrettable mistake". The Chronicle released the faculty support letter stating "we wish to state in no uncertain terms our support for Click as a member of the University of Missouri faculty who has earned her position through an outstanding record of teaching and research". Lawmakers side more with Schierbecker, demanding that the university "take immediate action to address the inappropriate criminal actions". They went on to say that as a Professor her goal should be to "ensure a safe learning environment", which, according to them, did not happen.
Take a look at the video and tell us what you think. Do you think the incident will blow over, or be further blown out of proportion? Share your comments below.
And remember, there's no need to rely on expensive student loan options to pay for your college education. For more information on finding free scholarship money for college, conduct a Scholarships.com free college scholarship search today, then apply and win! It's that easy!
Comments (2)
by Susan Dutca
Michael Keck, a 25-year-old former football player, has died in a similar manner as did the subject of a recently released film that focuses on concussions, CTE (Chronic Traumatic Encephalopathy) and the NFL. Brain research conducted on the former Division 1 college football player suggests that repeated trauma to the brain in the form of concussions suffered while playing football is to blame for ending the young man's life so abruptly. The findings to date strongly resemble those in the case used for a recently released movie, "Concussion," starring Will Smith. The film is based on the true story and researching findings of Dr. Bennet Omalu on pro football player and NFL Hall of Famer Mike Webster. Both this tragic story and the exposure given to this and similar stories by the movie have the potential to greatly impact the NFL and football in general, giving parents second thoughts about whether to even allow their children to participate in a sport with so much potential to permanently damage, possibly kill those who do.
A linebacker and special-teams' player in Division 1 college football, Michael Keck had played from ages 6-22. Despite having suffered 10 concussions, he was never hospitalized. After transferring from the University of Missouri to Missouri State University, Keck experienced his second concussion while playing at the college level, at which time his grades began to suffer. After taking a year off and returning to the team, he began experiencing persistent headaches, neck pain, blurry vision, tinnitus, insomnia, anxiety, and concentration problems, which caused him to quit his junior year. His symptoms persisted and his health further deteriorated, with loss of appetite, abuse and aggression toward his wife, and suicidal thoughts.
While Keck is certainly not the first to have suffered from multiple concussions or be diagnosed with CTE, he is unique in having done a "series of cognitive and psychology tests" while alive that would help Boston University researchers discover and understand how CTE symptoms develop. Scans showed patterns of abnormal protein clumps throughout his brain, which is an indication of CTE. Tests also showed Keck having memory and recall problems, speech and language impediments, and difficulties remembering and producing line drawings.
After his death, his medical records and donated brain helped researchers conclude he had "post-concussive syndrome with possible CTE and major depression." Though there is more research needed to make further conclusions, researchers report that CTE "should possible be considered in young athletes who have repeated head trauma as well as persistent mood and behavioral symptoms."
Hall of Fame former pro football player Mike Webster, died of a heart attack at the age of 50. Dr. Bennet Omalu, a Nigerian forensic pathologist who studied his brain and is the author of "Concussion", the book on which the recently released movie was based, found a "concentrated buildup of tau protein" (neurofibrillary tangles) - typically found in boxers' brains due to excessive trauma - suggested potentially similar harmful effects on the brain. Right before his death, Webster had been living out of a van, tasering himself to cope with chronic pain, and fixing rotten teeth with super glue. Omalu believes the tangles were located in a region of the brain that affected his mood and personality, which left to his erratic behavior that "choked his personality...turning him into someone else."
Though the NFL announced a $1 billion plan to address concussion-linked injuries by paying players who suffer from diseases such as Parkinson's and Lou Gehrig's, it does not include CTE" since the research is in its "early stages." On the other hand, Will Smith chose to take on the role in the movie because he felt he must shine a light on the problem of repetitive head trauma in football.
There are countless sports scholarships, especially for football at the college level, so be sure to check out our scholarships if you have a passion for the game and wish to earn free college money.
Going to college doesn't have to break the bank or saddle you with tens of thousands of dollars in student loan debt. Check out the Scholarships.com free college scholarship search where you'll discover you qualify for hundreds of thousands of dollars in scholarships in just a few minutes, then apply and win! It's that easy!
Comments (8)
by Susan Dutca
Student nurses at University of Delaware are seeking to exchange dummy patients for human ones, as they are more likely to provide a realistic scenario, especially when it comes to patient's expressing discomfort and pain. Student nurses believe that when it comes to real-life scenarios, new technology and practice on human dummies will hone communication and treatment skills. Would you volunteer to be a test dummy?
New technologies created by UD students and faculty will allow students to "practice suctioning airways on actors, who respond by gagging if they go too deep." At some point, students will also be able to draw blood from a "realistic-looking sleeve" or "simulate a urinary catheterization on sculpted genitalia worn by real people." Next June, SimUTrach will debut the first piece of equipment, helping students practice patient care with tracheostomy tubes for assisted breathing. Other patented technologies including an overlay chest compressor and a device that mimics a collapsed lung, according to USA Today news.
To best prepare student nurses, organizers are coordinating UD's Simulation Lab with the university's Healthcare Theatre program, where undergraduate theater students and adults will act out the role of a patient "struggling with many physical and mental conditions, including depression and alcohol withdrawal." Pre-med nursing, physical therapy, and nutrition students will need to respond appropriately to these "dummies" with proper "therapeutic communication that respects patient dignity." The silicone-overlay worn by the human dummies "resembles a rib cage and throat with a plastic tube emerging from the neck." There are various lung sounds such as wheezing and fine crackles. The UD team spent much time developing their prototype and is currently on their sixth one, after much updating from engineering, marketing, and fashion merchandising student designs. Even the mucus development is realistic in its color and consistency, with removable parts to keep the device from growing mold. When students are not properly handling the trach, the human dummies are prompted to cough or choke violently, as this is a common incident experienced in the real world if and when nurses accidentally hit the tracheal bifurcation.
Prospective nurses spend about 10 hours a semester working with live actors. Some more complicated procedures require manikins "equipped with breath sounds, heat tones, and palpable pulses." The monitors that measure vital signs can cost $90,000 each. A SimUTrach device costs less than $10,000. Amy Cowperthwait, who coordinates the UD Simulation Lab and university Healthcare Theatre program believes the transition to SimUTrach's technology will replace the current manikins.
If you are an aspiring practitioner, nurse, or doctor, would you want to test out these new technologies?
And remember, there's no need to rely on expensive student loan options to pay for your college education. For more information on finding free scholarship money for college, conduct a Scholarships.com free college scholarship search today, then apply and win! It's that easy!
Comments (1)
Student Protests May Not Have Caused Mizzou Resignation After All
Dec 29, 2015
by Kevin Ladd
Were student protests really even behind the ouster or was Mr Loftin's resignation a product of a coup orchestrated by nine deans who wanted him gone? According to The Chronicle of Higher Education, the deans involved had been having second thoughts about the appointment since Mr. Loftin arrived and his ouster was due to myriad occasions wherein he would refer to them as "essential middle management" and allude to his power to "fire" them.
Thomas L. Payne, who is vice chancellor and dean of the College of Agriculture, Food, and Natural Resources, expressed feelings that Mr. Loftin often used inappropriate methods and measures. Mr Payne reportedly recalled saying to Loftin, "I feel I must tell you that I don't think your leadership of this university is appropriate. I don't think your approach, in many cases of fear and intimidation, is the way we operate in the Midwest or anywhere. I think you should resign."
Mr. Loftin was deemed "irrevocably broken" after a dean had been forced out in December. Dean Patrick Delafontaine had served at the School of Medicine for less than a year and though the chancellor claimed Delafontaine left at his own will, the dean's colleagues didn't quite buy that. Delafontaine was known for doing a "good job" at the school and "to see his efforts dismissed and undermined...let [the deans] to conclude that [their] relationship with the chancellor was irrevocable broken."
Meanwhile, as all of this was brewing and perhaps even conveniently for the deans, student relations began to be a major issue at the school, coming to a boiling point in October and continuing to escalate, culminating in a hunger strike and members of the football team threatening to boycott all athletics unless the president stepped down. Though Loftin had befriended the student protestors by bringing them food to their demonstrations and "holding court" on the quad, his resignation had already been underway at that point.
While certainly the school must have been concerned about all of the issues students raised, it certainly does appear there was much more happening below the surface of the widely reported scandal. Do you think Mr. Loftin would have been forced out had the students not spoken up and demanded action? Leave us your insightful comments in the box below.
Going to college doesn't have to break the bank or saddle you with tens of thousands of dollars in student loan debt. Check out the Scholarships.com free college scholarship search where you'll discover you qualify for hundreds of thousands of dollars in scholarships in just a few minutes, then apply and win! It's that easy!
Comments (6)
by Jess Hanch
For $900, you can have a class taken for you and guarantee yourself an "A". Tempted? Academic cheating is now an industry helping online students get the grades they want by doing absolutely nothing. The art of cheating has been taken to a new level, with companies offering services for a price to guarantee students an "A" in their online classes. With the intelligence ingenuity of professional cheating companies, professors fear the growth of the cheating industry and how it degrades online education.
A ten-week study at Western Carolina University addressed the issue, and generated surprising results. Professors Alvin Malesky and Robert Crow created a fake online course, enrolling students with fake names and designating a couple of random students as "cheaters". Those students had to shop around for cheating companies and fool the professors. According to the Chronicle of Higher Education, those students googled keywords like "take my class for me" and "cheat on my online class" and 20 plus companies came up in the results. One student who was successful paid a company upwards of $900 to complete all of his coursework and get an A. To the professors' surprise, the company was successful. These companies have professionals in every field of study, able to effectively complete coursework and avoid plagiarism. Professor Crowe stated that the cheating student's work was at a higher level, but not enough to "red-flag him". Throughout the study, both professors detected plagiarism, but none were from the students assigned to use a cheating service.
The results raise many concerns for educators, and should raise concerns for employers. The growth of these companies will increase the number of students with false degrees and zero credibility. With the number of students enrolled in online courses, if only a fraction of those students cheated, the number still breaks the ten-thousand mark. The study supports those who believe online courses are not legitimate, and makes it difficult for professors who support online education to effectively teach these courses and make sure their students are prepared for real-world jobs. To address this concern, the study was published with tips on how to catch cheaters, and Malesky cites "awareness" as the best way to detect cheating. With regards to the rise of the cheating industry Malesky says "as of now, there are no mechanisms in place to [effectively] stop it". How do you think this seemingly widespread cheating affects online education? Start a conversation below.
Going to college doesn't have to break the bank or saddle you with tens of thousands of dollars in student loan debt. Check out the Scholarships.com free college scholarship search where you'll discover you qualify for hundreds of thousands of dollars in scholarships in just a few minutes, then apply and win! It's that easy!
Comments (0)
by Susan Dutca
Wheaton College, an evangelical institution, suspended an associate professor for wearing a hijab and claiming that Christians and Muslims worship the same God. Professor Hawkins wore a hijab to demonstrate her solidarity with Muslim women, but Wheaton's administration was reportedly unhappy with her theological claims. The decision to suspend the tenured professor ignited a campus protest Wednesday, a few days after Professor Hawkins made a public statement on Facebook that she would wear a traditional headscarf through the Christian Advent Season. The gesture was reportedly intended to show solidarity, particularly as Muslims are facing backlash with the aftermath of the mass shootings in San Bernardino, CA and Paris. Hawkins voiced her support for Muslims, whom she refers to as "people of the book," and additionally references Pope Francis' recent claims that Christians and Muslims worship the same God.
Wheaton's decision to place Hawkins on leave is in "response to significant questions regarding the theological implications of statements" made about the relationship between Islam and Christianity, and less about her decision to wear a hijab. The college emphasizes that the "faculty and staff engage in and speak about public issues in ways that faithfully represent the college's evangelical statement of faith." According to Wheaton's statement of faith, which is "consonant with evangelical Christianity," there are certain theological principles exclusive to Christianity which are not found in Islam, such as "one sovereign God, eternally existing in three persons," and the existence of Jesus Christ as Lord who "died for [our] sins." The college president made clear that it was her statements, not her choice to wear a headscarf, that was the main issue.
Hawkins had asked the Council on American Islamic Relations "whether or not wearing a non-Muslim hijab was haram (forbidden), patronizing, or otherwise offensive," in which she was assured that the gesture was welcomed. Some students are protesting her suspension through a sit-in and online petition while others claim "she signed a statement of faith and she must hold herself accountable to that statement of faith" or that, "to say we worship the same God is completely not true and it misrepresents the student body, it misrepresents the institution itself."
How should the situation be dealt with, in your opinion? Leave us your thoughtful comments below.
And don't forget, you should pay for your college education with as much free money as possible! Find as many scholarships and grants as you can before turning to student loans. Visit the Scholarships.com free college scholarship search today where you'll get matched with countless scholarships and grants for which you qualify, then apply and win! It's that easy!
Comments (13)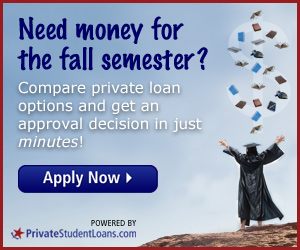 Recent Posts
Tags
Categories