The credit crunch and its negative impact on student borrowers is no longer news.   Both FFEL and private lenders have been responsible for financial tensions, and now there's more to gripe about. Numerous colleges have been complaining that they are not receiving sufficient funding to cover their students' Perkins Loan needs.
Perkins Loans are awarded to students by colleges and universities, but the government provides much of the funding. Because these loans are restricted to students who show particular financial need, shortages will affect students whose families have the lowest incomes most.  Perkins Loans have the cheapest interest rates and the most lenient payment options as far as government loans go, as far as most student loans go. Students are asked to pay a 5 percent interest rate on Perkins Loans as opposed to 6.8-7.22 percent on federal Stafford Loans and 7.9-8.5 percent on federal PLUS Loans. Those who turn to private lenders can expect even higher rates.
Due to a poor loan market and a lack of government subsidies, many schools have been forced to cut back on both the number and the size of their Perkins Loans. According to U.S. News & World Report estimates, about 50,000 students who would have qualified for Perkins Loans last year will not qualify for them this year.  Those who do qualify may still see their loan limits diminish. Technically, students can borrow up to $4,000 in Perkins Loans (though the number may be lower for those deemed less needy), but certain colleges will be decreasing the maximum funds available to students. 
This has left families worried that they may be forced to rely on private student loans after reaching their federal loan limits.  After dealing with increasing default rates, both Federal Family Education Loan (FFEL) lenders and private lenders have been forced to make loans more difficult to receive and less appealing to borrowers. Major lenders are becoming sticklers about eligibility criteria and have been cutting back on the benefits offered to students with good paying records.  
Students who are no longer eligible for Perkins Loans still have financial aid opportunities. By applying for college scholarships and grants, students may find college funding they do not have to repay. Before considering loans, students should conduct a free college scholarship search to find awards they may be eligible to receive. It is also important to fill out a FAFSA each year. Just because an individual is not eligible for Perkins Loans does not mean they will not be awarded free money in the form of Pell, FSEOG, SMART or TEACH grants.
Going to college doesn't have to break the bank or saddle you with tens of thousands of dollars in student loan debt. Check out the Scholarships.com free college scholarship search where you'll discover you qualify for hundreds of thousands of dollars in scholarships in just a few minutes, then apply and win! It's that easy!
Comments (0)
The whole "college graduates earn $1 million more than non graduates over their lifetime" stat is getting a bit trite. I'll give you a few more if you're not convinced that college is a worthwhile investment.
College graduates enjoy greater career security
College graduates can offer their children a more secure financial future
College graduates are healthier
College graduates are more likely to contribute to society
Anyway, you get the picture. The problem isn't that the whole "follow your dreams" thing makes no sense. The problem is affording those dreams and affording the time and preparation it takes to follow them. Most of us don't make enough money to loll around devoting our days to perfecting our sculpting skills and sharpening our 3 point shots. Even those with less risky dreams can't always afford to test the waters, especially if the schooling required to get those jobs is too expensive and time consuming. That's why so many students find themselves having to compromise their initial career goals after realizing their dream jobs won't allow them to pay off student loans. Let's just say that the need for qualified teachers isn't caused by a disinterested public.
Sorry, I didn't mean to be gloomy. I swear there's a silver lining. Financial aid in the form of government grants and outside scholarships is readily available to students in difficult situations. Without a cloud of college debt hanging over your head, "The Road Not Taken" may suddenly become an option. The financial aid information found at Scholarships.com will help you familiarize yourself with the FAFSA, government grants, corporate scholarships, private scholarships, the ins and outs of student loans and myriad other financial aid opportunities. Whether you're interested in preliminary information or ready to get down to business by finding scholarships, we can help you do it.
If you're not convinced, you can take a tour of our site. Visit our homepage, and take a sort of "Tour de Scholarships.com" if you will. We can help you see how conducting a free college scholarship search will help you find scholarships and grants that, based on the information you provide, you're eligible to receive. Find New York scholarships, scholarships for graduate students, scholarships for minorities, poetry scholarships, music scholarships—you name it, we've got it. With information about more than 2.7 million scholarships and grants, Scholarships.com offers more than you'll know what to do with. If you're not convinced yet, just take the tour. Like the search, it's free. You've got nothing to lose, and a world of financial aid opportunities to gain.
And remember, there's no need to rely on expensive student loan options to pay for your college education. For more information on finding free scholarship money for college, conduct a Scholarships.com free college scholarship search today, then apply and win! It's that easy!
Comments (0)
Posted Under:
College Costs
,
College Culture
,
College Grants
,
College News
,
College Savings Accounts
,
FAFSA
,
Fellowships
,
Financial Aid
,
GPA
,
Graduate School
,
High School
,
Scholarships
,
Student Loans
Tags:
During the November 28th Republican Debate, presidential candidates addressed an illegal immigration issue affecting numerous students. Currently, students who are illegal immigrants may attend college. However, many are unable to do so because financial aid, both federal and private, is not readily accessible to them. While scholarships without citizenship requirements do exist, they are not common.
The Free Application For Student Aid (FAFSA) states that only students who are U.S. citizens, permanent residents or eligible non-citizens are eligible to receive federal aid. To assist these students, some states have passed laws permitting illegal immigrants to pay in-state tuition fees. This has caused a great deal of controversy among people who feel that illegal immigrants should not be benefiting from the tax dollars of legal citizens.
The issue is a sticky one. Some illegal immigrants do pay taxes (the IRS does not discriminate when it comes to accepting tax dollars), but that does not apply to all. Also in question is whether the U.S. should be making it difficult for those who want to go to college to do so, especially when, in the end, it can benefit the nation.
During the debate, former Arkansas governor Mike Huckabee was criticized by former Massachusetts governor Mitt Romney for having supported a bill that would provide merit-based aid to illegal students within the state (the bill was not passed). Romney stated that the bill was in essence supportive of using taxpayer money to assist those who had broken the law and that such money should be used to pay for scholarships available to students whose families did pay taxes.
Huckabee responded by saying that students should not be punished for the actions of their parents and that preventing students from attending college would just leave more of them on the streets. In reference to the importance of an education he stated, " If I hadn't had the education, I wouldn't be standing on this stage." He also added, " I might be picking lettuce."
Lettuce? Nothing about his life as the son of a fireman points to lettuce picking, but the point was made. Thwarting student talents is the alternative to helping them get through school. This is especially the case when the bill in question is directed at academically accomplished students (which it is).
The debate over illegal immigration rages on without a solution in sight. In is not arguable that many students depend on financial aid to finish an education. The method for distributing this aid is.
And remember, there's no need to rely on expensive student loan options to pay for your college education. For more information on finding free scholarship money for college, conduct a Scholarships.com free college scholarship search today, then apply and win! It's that easy!
Comments (0)
The key to applying for financial aid is to fill out the Free Application for Federal Student Aid (FAFSA). This form is used to determine your eligibility for all federal student financial aid programs, and is a powerful tool for anyone who wants to find money for college.
Information from the FAFSA is also used to determine eligibility for many need-based scholarship programs and for some state grant programs. When you ask a representative of your college's financial aid office how to apply for financial aid, he or she will tell you that you must complete the FAFSA.
Until you submit a FAFSA, there is no way for you to get an accurate estimate of the types of federal financial aid that you might be able to receive. FAFSA data are used to determine eligibility for Federal Pell Grants, various Federal student loan programs, and college work-study positions. If you are planning to enter college in the fall following graduation from high school, you need to submit your FAFSA as early as possible in your graduation year.
As soon as you have W-2s and/or tax forms for you and your parents for the previous year, you need to fill out the FAFSA financial aid forms. The financial aid office at the school you plan to attend may be able to answer questions you have about how to apply for financial aid with the FAFSA. The Federal Student Aid Information Center can also assist you if you have any questions about how to fill out your financial aid forms.
You may reach a representative by calling 800-4-FED-AID. The sooner you take care of this important aspect of applying for financial aid, the earlier you will understand your financial aid options. Once you submit your FAFSA, it will be processed and you will find out what types of Federal Financial Aid you can receive.
And remember, there's no need to rely on expensive student loan options to pay for your college education. For more information on finding free scholarship money for college, conduct a Scholarships.com free college scholarship search today, then apply and win! It's that easy!
Comments (0)
by Kevin Ladd
Loans don't incite pleasant feelings in students, in anyone on the borrowing side. It doesn't help that the media has made it a point to discuss, extensively, what appears to be the newest trend… mortgage loan defaulting. Student loans aren't as large as mortgages, but for a growing number, they are catching up.
Regardless of cost, there are a lot of dedicated students out there, and until the college-financing system undergoes a major overhaul (cross your fingers but don't hold your breath), loans may be inevitable. Before taking out loans, students should complete a FAFSA and conduct a free scholarship search. Those who still need money should apply for federal loans. Only after exhausting government loans should one consider private student loans
As a result of the recently passed College Cost Reduction and Access Act, there will be a decrease in interest rates on federal college student loans. That's great news for students with large financial aid needs, but loan rates have not yet been changed. Even before government rates become less expensive, it is in a student's best interest to see what the government has to offer before looking elsewhere. Below are the federal student loan options available to those in need.
Stafford Loans- Students who are interested in taking out a Stafford Loan (or other types of federal student loans) will need to fill out a FAFSA. The amount that a student can borrow will depend on a student's year in school as well as on whether the Stafford Loan is subsidized or unsubsidized (only a portion of the amount may be subsidized). Stafford Loans disbursed after July 1, 2006 are fixed at a 6.8 % interest rate, but lower rates are in the works.
For the 2007-2008 school year, dependent undergraduate students attending college full time may borrow between $3,500 and $5,500 (borrowing limit increases after each completed year).
Independent undergraduates or dependents whose parents were denied a PLUS Loan may borrow between $7,500 and $10,500 (again, freshmen may take out less than seniors).
The maximum amount of a professional or graduate student loan is a bit larger—as is graduate tuition. This year, students may borrow up to $20,500, regardless of their year in graduate school.
PLUS Loans- The Parent Loan for Undergraduate Students or PLUS Loan is offered to, as the name suggests, parents of undergraduate students. Recently, the loan has also been made available to graduate school students. PLUS Loan amounts may not exceed the total cost of attendance minus any other financial aid received. If the student's estimated cost of attendance (amount determined by each school) is $6,000 and the student receives $4,000 in aid, only $2,000 may be borrowed. To take advantage of this loan, students must max out their Stafford Loans, and doing so is in a student's best interest anyway. PLUS Loans have higher interest rates than Stafford Loans; those disbursed on or after July 1, 2006 are fixed at 7.9% for Direct PLUS Loans and at 8.5% for FFEL PLUS Loans.
Perkins Loans- Although Perkins Loans are made with government money, they are normally classified as campus-based aid because they are administered by schools. Perkins Loans are offered to students with exceptional need, and only a limited amount is available. Once a school runs low on Perkins Loan funds, students will not receive as much (the same holds true for federal-work study opportunities). This is why students are generally advised to submit their FAFSA early. The earlier they apply, the greater their chance of receiving some forms of aid. The loan amount received through the Perkins Loan program depends on the amount a school has, on already-received aid and on the financial needs of the student. Students who qualify can borrow up to $4,000 each year and pay it off at a 5% student loan rate.
And don't forget, you should pay for your college education with as much free money as possible! Find as many scholarships and grants as you can before turning to student loans. Visit the Scholarships.com free college scholarship search today where you'll get matched with countless scholarships and grants for which you qualify, then apply and win! It's that easy!
Comments (0)
Filling out a Free Application for Federal Student Aid (FAFSA) is kind of like filling out a super complicated Christmas wish list. You write it, you hand it over and you cross your fingers when the time to open approaches. A lot of times you're disappointed with the results. Students should never dismiss the prospect of government aid. Even if they are not eligible to receive need-based grants, they will still have unsubsidized Stafford and PLUS Loans options. Receiving award letters with little or no aid options is frustrating, and it's all because of that stupid Expected Family Contribution (EFC) formula.
How much government aid a student receives is largely dependent on how much the government thinks a family can contribute to the education of their child. This is what is known as the Expected Family Contribution. Based on the income and asset information students provide on their FAFSA, the government determines a student's EFC number. The number is then sent to the student's school of choice which subtracts it from their estimated Cost of Attendance (COA). What's left over is used to determine if a student is eligible to receive federal or nonfederal aid.
The problem with the EFC is that it often overestimates how much a family is really able to contribute to a child's education. Although factors such as a (dependent) student family size and the number of family members attending college are considered, the expectations can still seem high. According to a 2004 Department of Education report, a family making between $45,000-49,000 per year was expected to contribute $6,000 to their child's education. One making between $50,000-54,000 was expected to contribute $7,000 and one that made between $95,000-99,000 was expected to contribute $18,900. It is doubtful that the average family can afford to contribute that much after paying all bills. Those with particular need, families with an EFC lower than $4,110, are eligible for free Pell Grant money this year, but only up to $4,310. That is not the average grant aid a student receives.
Recently released government data shows that, based on the average cost of an education at a public college, a family who sends one student to school is expected to contribute about 25% of their median household income. Those families who send their child to a private school are expected to contribute about 57% of their median household income. Even if students receive the maximum Pell Grant award, $4,310, the family may be nowhere near meeting the costs associated with a college education. If students are lucky, the new Congress-approved Pell Grant increase outlined in the College Cost Reduction and Access Act will be signed by President Bush. Based on White House reports, the president is expected to sign the legislation, but some doubts are still present.
Students who have been offered little or no financial assistance from the government can always look to scholarships and grants for financial assistance. Conducting a free scholarship search will allow students to find myriad awards they are eligible to receive. By using Scholarships.com's resources, students can find the scholarship and financial aid information they need to fund their education.
And don't forget, you should pay for your college education with as much free money as possible! Find as many scholarships and grants as you can before turning to student loans. Visit the Scholarships.com free college scholarship search today where you'll get matched with countless scholarships and grants for which you qualify, then apply and win! It's that easy!
Comments (0)
When students unfold their FAFSA award letters, they may find that in addition to loans and grants, they were granted Federal Work Study (FWS) awards. What does work have to do with government assistance? Good point.
Aid in the form of work may not be the ideal award, but students who need significant financial assistance may want to consider working part time. Undergraduate and graduate students may be able to eliminate, or at least decrease, their borrowing needs by conducting a free scholarship search and by accepting Federal Work Study (FWS) positions.
These jobs are administered by colleges and often require cafeteria work, administrative assistance and research help. The work is not always glamorous, and it is often low in pay—think minimum wage. Don't worry; there are some benefits.
Although FWS income is taxed, students are usually refunded a good chunk of it, and their financial aid eligibility is not hurt in the process. Students who work outside of school may find their future financial aid to be in jeopardy because of earnings. Students who accept FWS positions won't have to worry about this. Their earnings will not be considered when government aid is determined. This is a great benefit as personal income is counted against students at a much larger rate than is that of parents. 
Students who are interested and eligible for Federal Work Study are bound to find a job, and a flexible one at that. And because the jobs are created with students in mind, they tend to offer convenient schedules. The same can't always be said for stores and restaurants which offer the finest of hours—late nights and weekends. When finals and class schedules changes come into play, flexibility will matter.
Like other FAFSA awards, Federal Work Study money is limited. If an award letter states that a student is eligible for $2,000, they can only work until they reach that point. This may or may not be enough. Eligible students looking for work will have to decide whether FWS jobs or outside positions are right for them. Depending on schedule flexibility, pay rate and interest, one, the other or neither may be the best option.
And don't forget, you should pay for your college education with as much free money as possible! Find as many scholarships and grants as you can before turning to student loans. Visit the Scholarships.com free college scholarship search today where you'll get matched with countless scholarships and grants for which you qualify, then apply and win! It's that easy!
Comments (0)
When combined with free scholarship and grant opportunities found at Scholarships.com, government grants can significantly decrease, if not completely cover, a student's financial needs. Unlike loans, grants do not need to be repaid; unlike federal work study and assistantships, there is no labor involved. When students submit a FAFSA, they are automatically in the running to receive government need-based grants. The most well-known of these is the Pell Grant, but lesser-known government grants are also available. Here is a breakdown of grants students may find on their FAFSA award letters:
Pell Grants
The Pell Grant is the largest grant program in the United States, awarding undergraduates with millions each year. The Pell Grant is the foundation of all government aid. Seeing as Pell Grant money is free, awesome GPA or not, students should take advantage of all offers before moving on to Federal Work Study and government loans. Unfortunately, students don't always get their fill with Pell Grants. During the 2007-2008 school year, students may only receive up to $4,310 in aid from Pell Grants, and not all eligible students receive this much. This may seem like a drop in the bucket for those who need $12,000 or more each year, but every penny counts.
FSEOG
Students with extreme need may be eligible for the Federal Supplemental Educational Opportunity Grant (FSEOG). Like the Pell Grant, this is a grant for undergraduates. It is intended to provide additional assistance to the neediest of students, those with the lowest expected family contributions. Students may receive up to $4,000 each year in FSEOG funding, but awards may be as little as $100 per year. The award received will depend on the time of application, the level of need, and the rules at each school's financial aid office.
Academic Competitiveness Grant
This is a new grant introduced during the 2006-2007 school year. Students who felt their merit-based aid opportunities were thwarted by grades that did not sufficiently reflect their abilities may receive some compensation. Up to $750 will be awarded to first-year undergraduates and up to $1,300 for second-year full-time undergraduates who have completed a difficult high school program. The state or local education agency is responsible for deciding which schools are deemed rigorous. For information on high school eligibility based on state, visit the Department of Education. As this is still a need-based grant program at heart, only students who were deemed needy enough for Pell Grants can receive Academic Competitiveness Grant money.
National SMART Grant
The National Science & Mathematics Access to Retain Talent Grant (National SMART Grant) is awarded to third and fourth-year college students. Students who major in the physical, life or computer sciences, math, technology, engineering or a foreign language determined to be essential to national security may be able to supplement Pell Grants with SMART Grants. Up to $4,000 per year may be awarded to each recipient. A more detailed list of eligible fields of study may be found here.
Institutional Grants
In addition to government grants, students may find school grants on their award letters. These, unlike the government grants, usually take academic achievement into account. Some may also consider a student's financial need. To find out more about institutional grants offered at each college, students should visit their school website and conduct a scholarship and grant search at Scholarships.com.
Additional Grants
Above is a list of grants students can receive by submitting their FAFSA, but students don't need to stop there. Myriad scholarship and grant opportunities are available to them at Scholarships.com, and they aren't restricted to undergraduates and those determined to be needy by government standards. To conduct a free scholarship and grant search, visit Scholarships.com, and find money for college.
And don't forget, you should pay for your college education with as much free money as possible! Find as many scholarships and grants as you can before turning to student loans. Visit the Scholarships.com free college scholarship search today where you'll get matched with countless scholarships and grants for which you qualify, then apply and win! It's that easy!
Comments (0)
Financial Aid Acronym Overview
While researching financial aid options you will probably feel overwhelmed by the amount of information that you receive. The good news is that you aren't alone. Students applying for financial aid are often overwhelmed by the terminology associated with it and the heavy use of acronyms within informative literature. Before reading the financial aid information provided in this article these are some the acronyms you should know:


FAFSA (Free Application For Student Aid)


FSA (Federal Student Aid)


EFC (Expected Family Contribution)


FPL (Federal Perkins Loan Program)


SEOG (Federal Supplemental Educational Opportunity Grants)


FWS (Federal Work Study)


PLUS (Parent Loans For Undergraduate Students)


COA (Cost of Attendance)


FFEL (Federal Family Education Loan)


LEAP (Leveraging Educational Assistance Partnership)


SSIG (State Student Incentive Grant)


CPS (Central Processing System)


SAR (Student Aid Report)


Where to begin.
Feel as though you've been thrown into a den of ravenous acronyms and aren't sure where to begin applying for financial aid? Begin with FAFSA. To apply for an allotment of financial assistance from the federal government every student must submit their Free Application for Student Aid. After you submit your FAFSA it is distributed to the Central Processing System where several federal agencies like the Social Security Administration and the Department of Immigration, verify the information submitted. After your information has been evaluated the government determines your level of need and subsequently, how much aid you are eligible to receive and where the aid will come from. The most basic formula for determining financial need is the COA minus the EFC. The remaining amount is equal to the funding that the government determines to be in need of. FAFSA gives students and parents access to the FSA funds available. To clarify, FAFSA is not the financial aid itself, FAFSA is the form with which students request financial assistance from the government. Even if you are unsure of what aid you will receive from FAFSA, it is still a good idea to submit your form.
Each year the funds available in the federal assistance programs fluctuate; more often than not the funds available are lower than the actual need for aid. The fluctuations in funding are caused by changes in our economy and college enrollment rates. The amount that each student is given, is influenced by the availability of funds for a given year.
Behind the Scenes.
When you submit your FAFSA form, the government decides exactly how much aid you qualify for and then determines where the aid will come from. Typically, the aid is drawn from a combination of assistance programs and expects that either the students or the parents also have the option of taking out a loan. A typical financial aid package may be comprised of a Pell grant, a state need-based grant, a SEOG, FWS, a direct loan and a Perkin's Loan. Students are not obligated to return the money received in the form of grants, however, any funds supplied by the FSL must be repaid.
Federal Student Loan Programs.
You can take advantage of FSA programs by receiving assistance from FFEL or a Direct Loan, whichever is designated by the university you attend.
FFEL program relies on a private lender, such as a bank or credit union, to subsidize the loan. A Direct Loan is different; the government is responsible for subsidizing such loans directly. For the students that receive one of these loans, the only notable difference is where the money is returned to.
PELL Grants.
The best thing about a PELL grant is that it is essentially a gift from the federal government. Any student who has an unmet financial need qualifies to receive assistance from this program. The size of the grant is contingent upon three factors: the cost of attendance, enrollment status, and the EFC. Though a part-time student will receive a lower grant than a student with full-time status, he is still eligible for assistance. Typically, PELL grants are only available to undergrads that do not already have a degree.
State Contributions.
LEAP is vehicle through which your state provides financial assistance for students in need. This program was designed so that the financial contributions made by your state will be matched by the federal government. The primary role of this program is to provide grant money that is accessed through campus based programs.
Campus Based Financial Aid Programs


Federal Supplemental Educational Opportunity Grants. These grants are typically awarded to students with a considerable need for financial aid. The amounts awarded vary from $100 to $4000 dollars per year. This amount depends on the students need and the funding available for a given academic year.


Federal Perkins Loan Program. This program is also designed for students with an exceptional need for financial aid and is available to undergraduates and graduates alike. Interest does not accumulate while the recipient of the loan is in school and repayment of the loan is delayed until nine months after graduation.


Federal Work Study. Also a program that can be relied upon by undergrads and grads alike. Students who participate in this program have the opportunity to earn money towards expenses related to their education. Typically these students work about 10 hours a week and earn at least the minimum wage.


There is a notable difference between federal aid and the assistance provided by the three campus-based programs. If the federal government determines unmet need in a FAFSA applicant, that student gains access to any available aid offered through federal programs. This does not mean however, that the student will be eligible for any of the federal assistance administered by the college or university through a campus based program. When you submit your FAFSA form, the government does not calculate the equity of your parent's homes into the EFC, but universities do. This means that many students who the government deems eligible for financial aid are less likely to receive assistance through a campus based program. The difference in these calculations is used to separate the needy students from the extremely needy students.
Exclusions.
. If you are over the age of 24, married, or have children, you are classified as independent. Federal Student Aid was designed to help send dependents without a network of resources to college. If you don't qualify because of independent status, don't be discouraged as there are other forms of student loans available and scholarships that can be used toward your tuition as well. Additionally, if you carry veteran status or are a ward of the state you are excluded from the FSA program. Keep in mind that drug abuse can impact your eligibility to receive aid. Any drug related convictions will disqualify you from the program unless you have undergone rehabilitation therapy in a state approved institution.
Going to college doesn't have to break the bank or saddle you with tens of thousands of dollars in student loan debt. Check out the Scholarships.com free college scholarship search where you'll discover you qualify for hundreds of thousands of dollars in scholarships in just a few minutes, then apply and win! It's that easy!
Comments (0)
Posted Under:
FAFSA
Tags:
In the world of financial aid there are many different forms of assistance available to students and each serves a slightly different purpose than the other. Many students assume that words like scholarship, grant, fellowship, internship, and student loan are interchangeable. They are not, however, and the consequences of misunderstanding which form of financial aid you are looking for or receiving can be far reaching. For each variety of assistance there are different tax stipulations, service requirements, and repayment expectations attached. Any student on the hunt for financial aid should know what he's looking for, what he's found, what the award requires and how it will help him achieve his college goals.
Scholarships
Most scholarships are financial awards given to eligible students with no strings attached. Typically, if you win a standard scholarship, unless it is renewable, your interaction with the donor ends the day you receive your check. According to the IRS, if you are not pursuing a degree, the entire scholarship is taxable. For those students using the scholarship for college, any portion used for tuition, fees, books, and supplies is not taxable. Any funds remaining after your expenses are paid for, however, are subject to tax. There is not typically a service requirement or other stipulation attached to the scholarship upon receipt of the award, however, you should check to be certain. Scholarships are offered in many varieties—sweepstakes, essays, competitions—for traditional and non-traditional students alike. Occasionally scholarships require that you do a specified amount of community service after receiving the award.
Grants
Like scholarships grants are a cash award that does not need to be repaid. There are federal grants, state grants, and grants issued by private businesses and organizations. Many undergraduate students greatly depend on government grants to get them through college. Why shouldn't they? As long as students qualify financially, all they need to do is fill out a FAFSA. Aside from the government sponsored grant program, most grants are awarded to graduate students who need help funding research or who intent to enter a specific field. Grant amounts range greatly. They may be $100, $100,000, etc. Graduate school grants are not typically used toward tuition, but rather, they are usually used for any expenses necessary to complete your research.
Fellowships
Fellowships are typically awarded to pursuers of graduate or doctoral degrees. Although providers don't seek repayment, they will frequently ask that students perform research work as a part of the deal. The work may be tedious, but it is usually worth the effort; it is not uncommon for stipends, in addition to tuition coverage, to be a part of the fellowship package. Fellowships tend to be lucrative, and they can get pretty competitive. Students who demonstrate exceptional merit are usually the top runners.
Internships
Most students know the difference between a scholarship and an internship, however, for those that need clarification an internship is an opportunity to work within a business or organization that you would otherwise need a degree to hold a position in. While some internships offer monthly stipends for students participating in their programs, others are unpaid. There are many professions that require students to have participated in an internship program before they can be hired as an employee. It's a good idea to find out how most professionals in your field of interest secured a position in their field because you will likely discover that without the help of an internship most would not be where they are today. When you are considering an internship there are several things to think about before you accept a position. Ask yourself: How will it help me? What is the time commitment? Is there a stipend? And of course, is there a possibility for employment after the internship?
Student Loans
Believe it or not, student loans qualify as financial assistance; however, loans are a form of low-interest debt that must eventually be repaid. There is a limit to how much financial assistance a student can receive from student loans which is usually determined by how great the financial need of the student is. For the students who do not qualify for a need-based grant but do not have enough cash to pay for tuition, student loans are a good option. An added benefit is that most loans do not begin accumulating interest until 6 to 12 months after you graduate and monthly payments are also delayed until then.
And remember, there's no need to rely on expensive student loan options to pay for your college education. For more information on finding free scholarship money for college, conduct a Scholarships.com free college scholarship search today, then apply and win! It's that easy!
Comments (0)
That I needed to fill out a FAFSA was a given. All counselors advised students to search for aid, and it seemed wrong to miss out on the opportunity—especially when other students came home with awards. Admittedly, applying was a bit confusing (but worth it). After receiving my FAFSA award letter, however, I was totally mystified. There were columns for college grants, Stafford Loans, Perkins Loans and Federal Work Study. I didn't know if I had to accept all financial aid, if I could request more or if this was just my receipt. Out of fear for signing away my future home, I was almost ready to not sign anything. Thankfully, things became much easier after the first year (although the FAFSA part was still confusing). Knowing the basics made the award letter much easier to read.
Your award letter only reflects how much aid you are eligible for.
Using the information provided in your FAFSA, the amount your family can potentially contribute to your schooling is weighed against the actual cost of attendance. The award letter will reflect all federal, state and university offers of aid. This includes scholarships, college grants, and student employment. Financial aid gifts such as tuition waivers, assistantships, fellowships, resident hall advisor compensation and scholarships from organizations may not be listed until a school is notified about them. Your award letter is not a receipt. You will not take on a $5,000 loan by not responding, but you may lose some award money if you don't. You can take advantage of as much or as little of this money as you wish.
What You May Find
If you see any college grants in your letter, that's a good sign. Government grants are basically free money, and you should take advantage of it. Student loans are also common. Students may see awards for Stafford, PLUS, and Perkins Loans. While government loans are not free awards, they are a good bet for students who need to take out additional funding. The government provides students with interest rates that beat those offered by private loan companies. Federal Work Study is another pseudo award. Many colleges and universities will find work for students who would like to earn money. While such work is unlikely to make a student rich—much of it close to or commensurate with minimum wage—it is easy to find, and it is flexible. You are not required to accept any or all aid offered.Students may choose to decline some or all of their financial aid. Those who only wish to take advantage of free grant money may turn down the loans and federal work study funds. If a student needs $3,000 but is only offered $1,000 in grant money, they may use up their entire grant award as well as some or all of their loan award.Students unsatisfied with awards still have options.
Government Assistance May Not Be Enough
Students who feel they need more may speak to financial aid officials and request additional funds. Sometimes, schools may offer additional aid to coveted students or to those with new financial difficulties. Schools are not required to do this, so going in with a temper is not the best approach. Those who find no luck may still apply for additional scholarships, college grants and loans. Free grant and scholarship money is best, but additional, government-subsidized or private loans are available. Schools usually have a preferred-lender list for those who need to borrow, but it is important for students to conduct personal research on the side.
And don't forget, you should pay for your college education with as much free money as possible! Find as many scholarships and grants as you can before turning to student loans. Visit the Scholarships.com free college scholarship search today where you'll get matched with countless scholarships and grants for which you qualify, then apply and win! It's that easy!
Comments (0)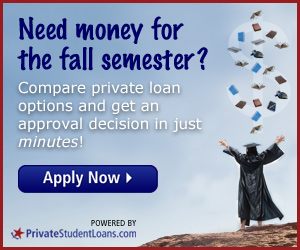 Recent Posts
Tags
Categories