A report released today details where colleges were spending their money in the years leading up to nationwide budget crises in higher education.
The report, "Trends in College Spending," comes from the Delta Project on Postsecondary Education Costs, Productivity, and Accountability, and includes a database open to the public on exactly what institutions were spending their money on, and where their funding was coming from. As the data available includes spending information through 2008, when many colleges had not yet been feeling the worst of the recession, education analysts suggests it paints a fairly accurate picture of where administrators' priorities lie when it comes to spending.
An article in Inside Higher Ed on the report today details the bad habits of institutions of higher education that may have contributed to current budget woes. Among those missteps:
Colleges spend too much money on administration, including administrative positions and outside accounting and legal positions. Harvard University was the biggest offender, where administrative costs rose by nearly 14 percent from 2007 to 2008.
Compared to funds allocated to administrators, colleges spend too little on instruction. While funding support grew by 20 percent for administrative support, funding for instruction grew by only 10 percent. According to the report, even in those years when revenues improved, the share of funding going toward instruction did not increase on levels comparable to that of funding set aside for administrative, non-academic costs.
Spending per student varies dramatically by school. Public research colleges spend about $35,000 per student, compared to about $10,000 per student per year at community colleges, which have seen rapid growth over the last few years. That suggests students at those public colleges are disproportionately subsidized, despite the fact that they typically come from more affluent households than those attending community colleges.
Colleges rely too much on cost-shifting. Rather than cutting spending in years when budgets were tight, schools raised tuition instead, a move that may not be sustainable in the long run.
As it was around 2008 when colleges began adapting to the worst of new pressures on their budgets, it's important to consider that the data in this study considers only those years prior to those funding constraints. The following decade will probably look quite different, and priorities may have shifted since. There's no question that the recession has had a toll on higher education, especially on schools that depend on state funding.
A recent report from the National Conference of State Legislatures described that declining state support for institutions of higher education. Many states have begun to rely on federal stimulus funds to address or prevent major budget cuts across the board, with California hit particularly hard. The report also showed more of a reliance on tuition to cover costs, as state support and school endowments have decreased. Tuition, which increased by about 2 percent between 2008 and 2009, now accounts for about 37 percent of total education revenue. In comparison, about 25 percent of education revenue came from students' tuition payments in 1984.
And remember, there's no need to rely on expensive student loan options to pay for your college education. For more information on finding free scholarship money for college, conduct a Scholarships.com free college scholarship search today, then apply and win! It's that easy!
Comments (0)
For-profit colleges have been the talk of the town in Washington over the last week, with legislators concerned by their rapid growth and what they consider a resulting lack of oversight.&nbsp
Yesterday, a group of Democratic lawmakers called for a federal review of for-profit colleges, their recruitment strategies, and the value of what they provide students. In the letter they sent to the Government Accountability Office, the lawmakers were especially concerned about the fact that the for-profit sector accounts for less than 10 percent of total enrollments but about 25 percent of federal financial aid disbursements. According to an article in The New York Times this week, for-profit colleges collected $26.5 billion in federal funding last year, compared to $4.6 billion in 2000.
The letter came just after the U.S. Department of Education's proposal that for-profit colleges be more forthright about students' potential loan debt relative to their incomes, even going so far as to propose limiting federal aid to those colleges with the most uneven debt-income ratios. The for-profit colleges themselves have said that they would be comfortable with disclosing graduation- and job-placement rates and median debt levels, but that limiting federal aid would certainly force many of them into insolvency.
One case in Illinois serves as a cautionary tale, and an example of what is so troubling to legislators. The Illinois State Board of Education has launched an investigation of the Illinois School of Health Careers' patient care technician program in Chicago after a group of students decided to file a class-action lawsuit against the institution. The students say they were misled into thinking that they would be able to take the state's certified nursing assistant exams upon completion of the program. In fact, the program lacks the proper approvals from the Illinois Department of Public Health, leaving students with student loan debt and instruction in a field they say offers few, if any, job prospects.
Supporters of for-profit colleges say the schools are important in serving a population looking to learn a particular trade or get out into the workforce more quickly. Republican lawmakers on the other side of the issue have said Congress should be more concerned about looking for ways to monitor the bad eggs among the bunch and not be so skeptical of an entire industry, according to The New York Times article. Representatives for the Career College Association have said accredited institutions that focus on career-preparedness are critical in meeting President Obama's goal of getting the United States on top in terms of higher education by 2020.
Most for-profit schools don't report the kinds of dissatisfaction felt by those students at the Chicago school described above and are a good option for many students, especially those seeking flexible alternatives. The key is quality control. If you're interested in a career college or an online degree university, do your own research. Make sure your intended school is accredited, as this means it meets a set of standards set forth by the U.S. Department of Education. Make sure the college you'll be paying for—and may be paying for years down the line, even after graduation—is not only legitimate but worth paying for.
And remember, there's no need to rely on expensive student loan options to pay for your college education. For more information on finding free scholarship money for college, conduct a Scholarships.com free college scholarship search today, then apply and win! It's that easy!
Comments (0)
As opposition to the new Arizona immigration law only continues to grow, a new scholarship that would target illegal-immigrant students has led one Congressman to suggest that the school offering the award may lose federal funding as a result.
The $2,500 matching Tam Tran Memorial Scholarship is offered by the Santa Ana College Foundation, the fund-raising body of the two-year school. The award was created in memory of Tam Tran, a Santa Ana College and University of California-Los Angeles alumna who was killed by a drunk driver in Maine last month. Tran was enrolled at Brown University as a graduate student at the time of the accident.
According to a press release from the foundation, the award will be given to a student who excels academically, has financial need, and is working toward their American citizenship, as Tran was. Tran was a vocal supporter of the DREAM Act while she was a student at Santa Ana College, and testified before Congress in favor of passing the legislation. The DREAM Act would provide those students who are in the country illegally the opportunity to apply for permanent residency if they have graduated from an American high school or have been accepted into an institution of higher education.
A recent article in The Orange County Register details the first negative response to the award, from California Congressman Rep. Dana Rohrabacher. Rohrabacher called the scholarship "unforgivable," especially at a time when other, legal students are having a difficult time finding funding for rising college costs. The Congressman has already sent a letter to the president of Santa Ana College. In effect, the letter tells the president that if the school goes forward with the award, the move would put "continued public financing for Santa Ana College in jeopardy."
Santa Ana College defends their decision by saying it is only fitting that the scholarship go to other undocumented students, the group Tran rallied for and supported as an illegal immigrant herself. As the award comes from the school's foundation, it would also be driven by donations, not public dollars. What do you think about the award? Should schools be setting aside funds for undocumented students, even if they come from private funds? Let us know what you think about this controversial topic.
Going to college doesn't have to break the bank or saddle you with tens of thousands of dollars in student loan debt. Check out the Scholarships.com free college scholarship search where you'll discover you qualify for hundreds of thousands of dollars in scholarships in just a few minutes, then apply and win! It's that easy!
Comments (1)
Several four-year colleges are already looking into offering accelerated three-year programs, either to bring more revenue into their schools or to offer an official path for students already working to complete their degrees under the traditional four years. Associate's programs have always been an alternative for students looking for lower-cost options in specific fields and disciplines, and typically take two or more years to complete. One school, however, will launch an accelerated version of the typically two-year program, giving the students the option of receiving a degree in one year flat.
Starting this fall, Ivy Tech Community College in Indiana will offer a pilot program to students interested in completing degrees in health-care support in just one year. Students must commit to an 8 a.m. to 5 p.m. school week, five days a week, but in exchange, the cost of the program and any associated tuition and fees will be covered by the college. The fifth day in that school week will be reserved for fields trips, more experiential activities, or additional class time if certain instructors need it.
According to an article in The Chronicle of Higher Education on the program, this is the first community college in the country to offer an accelerated associate's degree. The project was made possible by more than $2.5 million in grants from the Lumina Foundation for Education and the Indiana Commission for Higher Education, and aims to address low degree-completion and retention rates among low-income students. Only about 25 percent of students who enter associate's degree programs graduate with that two-year degree, according to The Chronicle.
Is it really possible to squeeze all of that instruction into one year? Ivy Tech administrators say yes. The students who were welcomed into the program for the fall were determined to be "college-ready" by guidance counselors and faculty and staff at the college, based on their academic achievements in college and any relevant test scores and records. Students will be divided into cohorts of between 12 to 20 students, and will receive condensed instruction where they are expected to synthesize quite a bit of information at one time. All of the students will be receiving financial aid. In fact, they must be in need of financial aid to enter into the program, as one of the aims of the program is to improve the success rates of low-income student populations.
According to The Chronicle, a number of technology centers in Tennessee have been experimenting with accelerated certificate programs, although they do not award associate's degrees in any fields of study. Proponents of acceleration say programs like the one at Ivy Tech are especially useful in areas with competitive job markets or high numbers of unemployment workers who need new skills; graduates are able to get back out into the workforce with new skills in less time than before. What do you think? Is one year too little time to get a degree? Should four-year colleges look to accelerate programs even further?
And remember, there's no need to rely on expensive student loan options to pay for your college education. For more information on finding free scholarship money for college, conduct a Scholarships.com free college scholarship search today, then apply and win! It's that easy!
Comments (2)
Many fields of study require or strongly suggest semesters or summers of unpaid, or "educational," internships, where students get experience in their intended future careers but not pay, and often not even college credit.
To address concerns that some employers may be taking advantage of the opportunity to have eager college students come work for them at no cost, the U.S. Department of Labor released a set of rules Wednesday that clarify the roles of those employers and the students' colleges. The rules will fall under the Fair Labor Standards Act, which also establishes the minimum wage, overtime pay, and any youth employment standards.
According to the Labor Department, internships may be unpaid if they meet the following six criteria:
The internship, even though it includes actual operation of the facilities of the employer, is similar to training which would be given in an educational environment;
The internship experience is for the benefit of the intern;
The intern does not displace regular employees, but works under close supervision of existing staff;
The employer that provides the training derives no immediate advantage from the activities of the intern; and on occasion its operations may actually be impeded;
The intern is not necessarily entitled to a job at the conclusion of the internship; and
The employer and the intern understand that the intern is not entitled to wages for the time spent in the internship.
An article in
The Chronicle of Higher Education
this week includes comments from some campus officials who worry that the new rules will scare off employers who want to provide educational (but unpaid) experiences to students. One concern is that meeting a set list of criteria leads to more risk for those employers. Others disagree. Janet Nepkie, a professor of
music
and music industry at the
State University of New York at Oneonta
, tells the Chronicle she isn't worried about complying with the new rules, as she has a good working relationship with each employer who "hires" interns from her school. (Nepkie oversees the internship program in her department.)
The Labor Department rules agree with the notion that internships existing as partnerships between employers and colleges are best, and most likely to comply with the new regulations. According to the Labor Department: "The more an internship program is structured around a classroom or academic experience as opposed to the employer's actual operations, the more likely the internship will be viewed as an extension of the individual's educational experience (this often occurs where a college or university exercises oversight over the internship program and provides educational credit)."
We know sometimes students have no choice but to apply for internships led by private companies and organizations, and outside of their colleges' control. Some of those experiences offer not only stipends or salaries but benefits as well, since the students are considered more than interns but temporary employees. What do you think about unpaid internships? Should there be more oversight, as the Labor Department hopes there will be now?
And remember, there's no need to rely on expensive student loan options to pay for your college education. For more information on finding free scholarship money for college, conduct a Scholarships.com free college scholarship search today, then apply and win! It's that easy!
Comments (0)
Many students are preparing for the last few weeks of finals, completing projects and cracking books open for a week of finals. Students at Southern Catholic College in Georgia, however, are packing up their bags, potentially for good. Tomorrow is the last day of the semester at the college, nearly a month ahead of schedule due to budget woes that made it impossible for the school to maintain its schedule of courses through mid-May, the traditional end of the spring semester.
The decision was announced abruptly earlier this month by Rev. Shawn Aaron, the school's president and a priest of the Legionaries of Christ, via email to faculty, staff, and the school's nearly 200 students. Students will receive full credit for the entire semester, and graduating students will receive their diplomas in an upcoming simple ceremony at the college. In the email, Father Aaron gave no indication as to whether the school would reopen at all, or whether this was a temporary budget fix. According to an article in The Catholic Review, the school would need $6 million to reopen by June.
The school was founded in 2000, but has had some financial trouble since its first years of operation. According to The Catholic Review, the school had gotten into the bad habit of spending more than it took in; in 2007, the college spent $2.5 million more than it should have, and only continued the trend in the years that followed. The formerly privately-run institution was transferred to the Legionaries of Christ in the fall of 2009, but the congregation was unable to financially support the school. In addition to overspending, the students at the school who were on full scholarships outnumbered those who paid full tuition, room and board, which runs more than $24,500 a year.
Students didn't see the early closure coming, according to the article. They went to social networking sites when they heard the news, learning mostly through hearsay why the school would be closing so suddenly. Their worries include how their grades will be calculated based on the shortened semester, and whether their credits will transfer over to other institutions if the school closes for good. According to The Catholic Review, the school's president waited so long to notify the student body because the school board was waiting to hear back about a last-minute plea to a benefactor of the college. That plea did not lead to any last-minute funding, so the decision was made to close the school when it was apparent the school was unable to pay its faculty and staff beyond April 15.
And don't forget, you should pay for your college education with as much free money as possible! Find as many scholarships and grants as you can before turning to student loans. Visit the Scholarships.com free college scholarship search today where you'll get matched with countless scholarships and grants for which you qualify, then apply and win! It's that easy!
Comments (0)
Teaching assistants who may not be able to keep up with the rigors of marking up hundreds of papers per semester while maintaining their own academic schedules may soon be relieved of their duties if a new trend catches on - outsourced grading.
The University of Houston is already trying it out through Virtual-TA, a service of a company called EduMetry Inc. whose employees work mostly from Asia. According to a recent article in The Chronicle of Higher Education, University of Houston business professor Lori Whisenant decided to use the service when she realized her seven teaching assistants were having trouble giving productive, detailed feedback to the 1,000 or so juniors and seniors who enrolled in her course in business law and ethics each year. Her students come up with nearly 5,000 words a semester.
The company, which was co-founded by a business professor, boasts that it can do the job even better than teaching assistants, and leaves professors with more time to teach and conduct research. According to the Chronicle, many of the American schools that have signed up are business schools, with a mix of for-profit and nonprofit institutions using the outsourced services. West Hills College in California uses the service for its online courses, and instructors there say the extensive feedback on grammar and other writing errors that teaching assistants may ignore in favor of more "big picture" problems with essays has kept some students from dropping out of the online classes.
So how does it work? "Expert graders," or "assessors," submit grades online using rubrics from the professors teaching the courses. They communicate solely via email, and are given syllabi and textbooks from the courses to prepare for their grading assignments. Their feedback is embedded into the documents they receive from students; those comments may be edited by the professors before they are returned to the students. The graders do this for a living, so the biggest difference between the outsourced assessors and local teaching assistants is that they're not juggling their coursework at the same time.
Critics of the service worry that it makes the grading process even less personal than it already is with teaching assistants at the helm. These outsourced graders don't know anything about the students they are grading, critics say, making it difficult to adjust their comments to fit each student. Those who like the service, however, say it shouldn't matter where a grader is submitting their feedback from, whether that is across the hall or from a work station in Singapore. What do you think? Is this the future of grading?
And don't forget, you should pay for your college education with as much free money as possible! Find as many scholarships and grants as you can before turning to student loans. Visit the Scholarships.com free college scholarship search today where you'll get matched with countless scholarships and grants for which you qualify, then apply and win! It's that easy!
Comments (0)
Seventeen states across the country have joined together in a pledge to improve college graduation rates as part of the Complete College America Alliance of States.
The alliance, announced today, is led by Stan Jones, Indiana's former commissioner for higher education, and the Washington-based nonprofit group Complete College America. It is part of a larger, national effort led by President Obama of making the United States the most educated country by 2020. The main goal is to raise the number of adults between 25 and 35 with associate's or bachelor's degrees from 38 percent to 60 percent.
How will they do it? According to Complete College America, a number of things need to happen to develop  action plans and move legislators to create change. Among those are the following:
We must ensure all students are ready to start and succeed in freshman credit courses. (According to the U.S. Department of Education and the National Center for Education Statistics, about 41 percent of students who start college aren't ready for college-level work, resulting in delays and, worse yet, dropouts. We've already reported more college freshmen are in need of remedial coursework.)
We must use available financial aid resources to provide incentives to students and colleges for progress and completion.
We must develop new, shorter, and faster pathways to degrees and credentials of value in the labor market.
We must develop and implement aggressive state and campus-level action plans for meeting the state's college completion goals.
We must use consistent data and progression measures to create a culture that values completion, including publicly reporting benchmark data and annual progress on college completion, progression, transfer, job placement and earnings, and cost and affordability measures.
The United States ranks 10th in the percentage of young adults with college degrees, according to the Organization for Economic Cooperation and Development and an article yesterday in the The Chronicle of Higher Education. While there have been a number of initiatives cropping up recently to move high school students into college faster and move college students through college faster, this project is unique in that it focuses on involving state legislators and creating new policies that would make move such initiatives into law. As ideas become policies, more funding also becomes available on the state and federal level to keep programs in place. (Even successful programs that have helped thousands of students get into and through college have been affected by budget cuts over the last year or so due to the recession.)
And remember, there's no need to rely on expensive student loan options to pay for your college education. For more information on finding free scholarship money for college, conduct a Scholarships.com free college scholarship search today, then apply and win! It's that easy!
Comments (0)
The University of North Carolina at Greensboro unveiled a new program yesterday that would allow undergraduates to graduate within three years. The initiative, UNCG in 3, would target "highly motivated students," according to the school's press release, and would address the growing number of high school seniors who enter the university with transferable college credit earned through Advanced Placement (AP), UNCG iSchool or other early college programs.
Graduating early isn't a new phenomenon. Many college students consider graduating early to save costs (the UNCG in 3 program would save undergraduates about $8,000 in tuition, fees, room and board) and get a jump on their post-college careers. Sen. Lamar Alexander, a former president at the University of Tennessee turned Republican lawmaker, has said the three-year degree track would would save students money, ease the dependence on federal and campus-based financial aid, and allow students  to move into the working world or to pursue an advanced degree in less time. But it is unique for a college to set up a program specifically to get students on that track
Incoming freshmen in the following degree programs would need 12 college credit hours prior to enrollment to be eligible: Accounting, African-American Studies, Business Administration, Communications Studies, Economics, Elementary Education, English, Entrepreneurship, Finance, German, History, Information Systems and Operations Management, Political Science, Psychology, Religious Studies, Romance Languages and Russian. Those eligible students would need to take and pass at least 16 credits each fall and spring, plus seven credits each for two summer sessions.
The decision to offer the program came following a survey of the North Carolina school's student body. According to the school's press release, in the fall of 2009, 526 freshmen came to the college with AP credits; 92 students had 12 or more credits. That year, 59 first-year students entered with credits from UNCG iSchool, joining 139 continuing students with iSchool credit. A number of high schools across the country are also set to begin offering early high school graduation plans, further shortening not only the college but the high school experience.
Other colleges are looking to keep students from taking too long to graduate. At the University of Texas at Austin, a 20-member committee has recommended placing a limit on the number of semesters it should take undergraduates to graduate at 10. The current average length of time is 8.5 semesters; the national standard is four years, or eight semesters. According to the Associated Press, another task force recommended a 10-semester limit in 2003. Students would be able to appeal the limit, which would not apply to those in some architecture and engineering programs, or to shorter summer sessions. The committee also looked at limited the number of times students should be allowed to switch majors.
The Texas college has been looking to place such limits on the student body to better serve those students. According to the committee's report, "By remaining at the university for extended periods, these students reduce the university's capacity to serve other students who wish to attend UT, both freshmen and transfers." The Associated Press did not address whether there was a financial incentive for the school to graduate students early and get new freshman applicants enrolling.
Going to college doesn't have to break the bank or saddle you with tens of thousands of dollars in student loan debt. Check out the Scholarships.com free college scholarship search where you'll discover you qualify for hundreds of thousands of dollars in scholarships in just a few minutes, then apply and win! It's that easy!
Comments (0)
The president of Middlebury College has introduced a plan that would cap the school's annual comprehensive cost increases at 1 percentage point above inflation, a proposal that would slow increases that have been running well above and independent of changes in the Consumer Price Index. The school's board is expected to approve the proposal prior to planning its budgets for the next year.
According to an article in Inside Higher Ed today, the decision to come up with a proposal for a tuition increase cap came when administrators started talking a hard look at the ever-growing cost of a liberal arts degree. At Middlebury, the "comprehensive fee" of an education there - tuition, room and board - has reached past the $50,000 per year mark. And despite a record number of students applying to the school, administrators felt they should be forward-thinking rather than taking advantage of the current windfall of applicants. Those numbers won't keep up forever, after all. In a speech at the college on Friday, the school's president, Ronald D. Liebowitz, said there would eventually "be a price point at which even the most affluent of families will question their investment; the sooner we are able to reduce our fee increases the better."
A number of schools have tried to impose tuition freezes in the past, only to revert back to their old ways when budgets tightened. Princeton University tried in 2007; Williams College tried in 2000. Middlebury administrators, however, hope their cap is sustainable for the long term. Middlebury's increase for the current 2009-10 year was 3.2 percent, 3 points above inflation. The average annual increase for private, four-year colleges is 4.4 percent, according to the College Board. Critics of the proposal worry that cuts will come from elsewhere to make up the funds lost by the cap; the school loses about $900,000 for each percentage point increase it doesn't make. In the Inside Higher Ed article, Liebowitz said he saw revenue potential in the school's unique programming, and that the move could make the college even more desirable to applicants also applying to private colleges who are not considering tuition increase caps.
In 2008, only five colleges charged $50,000 a year or more for tuition, fees, room, and board. In 2009, 58 did, making $50,000 the new norm. Still, it could be worse. Tuition and fees increased by an average of 4.3 percent at private colleges and universities nationwide for the 2009-2010 academic year, according to data from the National Association of Independent Colleges and Universities. Those figures, although much higher than the rate of inflation, were still lower than previous averages. In fact, those tuition increases were the lowest they have been in 37 years, despite the struggling economy. On average, schools also allocated 9 percent more to college scholarships and grants for 2009-2010 than the previous academic year.
And remember, there's no need to rely on expensive student loan options to pay for your college education. For more information on finding free scholarship money for college, conduct a Scholarships.com free college scholarship search today, then apply and win! It's that easy!
Comments (0)
Remember that Monroe College student who sued her alma mater when she failed to find a job? Lansing Community College plans to introduce a new program next month that would provide training in high-demand fields and a guarantee of employment upon completion, or your money back. (The Monroe College student, Trina Thompson, sued for the full cost of her tuition, or about $70,000.)
The Michigan community college announced the plan at a State of the College speech yesterday morning. An article in the Lansing State Journal included an interview with the school's president, Brent Knight. "Why spend money, take time to learn when you may not get a job?" Knight said in the interview. The program will be called "Get a Skill, Get a Job or Your Money Back."
The program will be offered only to those pursuing short-term, non-credit training programs for high-demand occupations, according to the Lansing State Journal. Those include programs targeting pharmacy technicians, customer service call center workers, certified quality inspectors, and home technology integration technicians. (You didn't think this was a blanket guarantee, did you?) Students interested in the program will be asked to sign contracts where they agree to attend all of their classes, complete all assigned work, and participate in a job preparedness workshop. The students will also need to make "good-faith efforts" to find a job once they complete their programs. The college plans to begin offering the program this May.
As the economy has only just begun to rebound and students' job outlooks continue to suffer, colleges have been getting creative to address not only declining enrollment numbers, but an increase in applicants. Most community colleges have actually seen a growing number of returning adults coming onto their campuses, and are in need of more funding to accommodate all of those students. Nationwide, full-time enrollment at community colleges is up 24.1 percent since 2007, with overall community college enrollment increasing 16.9 percent over the same period.
These growing enrollments have also caused some problems on the four-year college level. Last fall, Ithaca College offered 31 students $10,000 each to defer their enrollment for one year after they ended up with an incoming class that was 20 percent larger than expected. The University of California plans to use a waiting list for incoming freshmen if it does not receive the necessary funding that would fund 5,121 out of around 14,000 currently unfunded enrollments. This would be the first time in history that the university system is considering a wait list, and more than 1,000 students may be affected by the change.
Going to college doesn't have to break the bank or saddle you with tens of thousands of dollars in student loan debt. Check out the Scholarships.com free college scholarship search where you'll discover you qualify for hundreds of thousands of dollars in scholarships in just a few minutes, then apply and win! It's that easy!
Comments (0)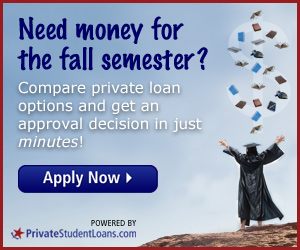 Recent Posts
Tags
Categories