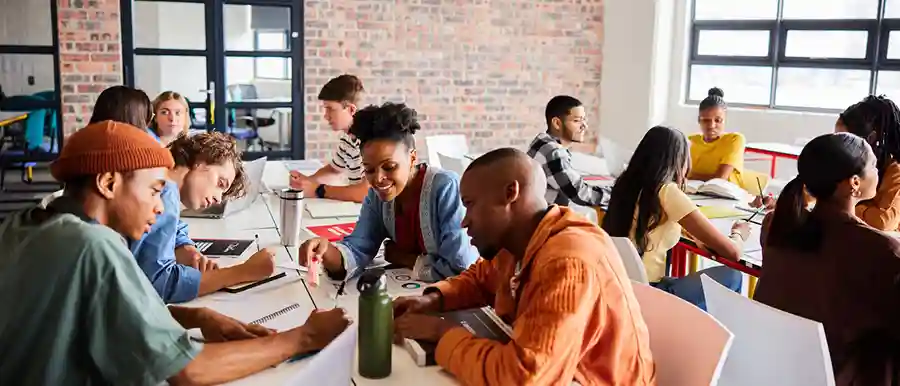 If you're a student or have been involved in academic programs, you may have heard the term "capstone." So, what does it really mean? Great question and Scholarships.com is here to help you understand what an academic capstone project is and share some examples. Let's dive in!
In academic programs, a capstone is a culminating project or hands-on experience that demonstrates a student's mastery of their knowledge, overall skills, and student motivation gained throughout their program of study. It is usually completed in the final year of academic studies and is designed to showcase a student's ability to integrate and apply what they have learned during their graduate studies in a practical way.
In the final semester of college, students typically complete a capstone course, which may initially appear challenging but can ultimately provide a valuable experience for upcoming graduates.
However, many school students find themselves uncertain about what a traditional capstone project entails, leading to anxiety about taking it on. If you and your informed student want to gain a better understanding of this program and what it involves, here's an overview that will shed some light.
What is a Capstone Project?
A traditional capstone project is a required aspect of a university degree and graduate degree program where students can showcase their skills in their chosen field of study. It may be referred to as a senior thesis, final exhibition, culmination project, full thesis, or capstone experience.
Capstone courses exhibit differences depending on the college and major being pursued. For certain courses, a final paper is necessary to exhibit a student's comprehension of the material. Graduation requirements may entail the completion of a portfolio or presentation, while capstone courses may encompass internships, volunteer hours, or work experience.
Regardless of the specific format, the central idea remains consistent: providing students with an opportunity to showcase their expertise and skills in their chosen field of study. Since different majors and courses require the application of knowledge and skills in diverse ways, the definition of a capstone course can vary accordingly.
For example, photography majors might curate a personal exhibit, while history majors may be tasked with writing a comprehensive report. In scientific or healthcare-related disciplines, practical demonstrations such as volunteering or internships may be more common, allowing students to showcase their skills in real-world contexts.
As your college experience nears its end, you may find yourself facing a capstone course. If you're unsure about its nature or how it works, allow us to provide you with an overview.
Is a Capstone Project different from a Capstone Course?
The terms "capstone project" and "capstone course" are often used interchangeably and involve students completing a comprehensive assignment to showcase their understanding in their field of study.
Is the format of Capstone Assignments individual or group-based?
The approach to capstone assignments can vary among schools. Some institutions require students to complete their capstone projects and assignments individually, allowing them to showcase their personal knowledge without significant input from professors or others.
Some colleges emphasize group work, which involves a specified number of students collaborating on a project, such as a research paper or exhibit. This method is often employed in subject areas that require teamwork or when the task requires collective efforts.
The instructions for capstone courses, projects, and assignments are typically outlined in the course description or provided by the overseeing professor.
Is a Capstone Course considered a formal academic course?
Some colleges have a structured class-based learning model for capstone requirements, where students are expected to attend scheduled classroom sessions, similar to other courses they have taken.
The classroom sessions serve as opportunities for students to receive feedback from the professor or engage with group members on a regular basis, rather than direct instruction being the main purpose.
Some colleges use an independent learning approach for capstone projects, where students are accountable for finishing the project by a set deadline. They work at their own speed and collaborate with others, if necessary, to ensure everyone stays on schedule.
In independent learning models, students can seek guidance from the overseeing professor through scheduling appointments or visiting during the professor's office hours, with the specifics of this interaction potentially detailed in the syllabus or course description.
What is the origin of the term "Capstone"?
The origin of the term "capstone" comes from architecture, specifically the placement of the final stone at the highest point of a building. Symbolically, it signifies the completion of a building project, similar to a crowning jewel.
In the context of education, the capstone experience serves as the last step in a student's academic journey within a particular degree program, marking the end of their educational pursuit in that field.
What Are the Benefits of Capstone Courses?
Many students wonder about the benefits of participating in a capstone course. While it can be time-consuming and stressful, there are several advantages to this experience. Capstone courses not only provide students with a platform to demonstrate the knowledge they have acquired throughout their college years but also offer an opportunity to prove their capabilities to themselves, boosting their confidence.
Additionally, engaging in a capstone course can enhance a student's resume. They may have a portfolio of capstone projects or courses that they can showcase when applying for jobs or graduate programs. Capstone experiences involving internships, volunteering, or work experience can be valuable additions to their credentials, demonstrating their practical skills and making them more competitive in their chosen field.
Moreover, capstone courses allow students to apply their skills in a practical manner, further refining and developing their abilities. This hands-on approach can contribute to their professional growth and preparedness.
Do I Have to Take a Capstone Course?
The inclusion of a capstone course varies depending on the college and the degree program in question. It is probably a good idea to ask someone at your school whether a capstone course or project will be required of you.
Is a Capstone Course Required at All Colleges?
Not all colleges require capstone research projects as part of their curriculum. Additionally, even among institutions that do require capstone experiences, there may be variations in terms of when and how they are mandatory. Some colleges may make them obligatory only for specific degree levels or majors.
Typically, capstone courses or projects are more common at the graduate level. However, certain undergraduate programs and institutions also incorporate capstone requirements into their Bachelor's degree programs.
If your student is in the process of selecting a college, it may be worthwhile to consider whether a capstone course is part of the degree plan. This factor could distinguish one college from another in their eyes. To determine whether a capstone course is mandatory, students should carefully review the degree program requirements, which will outline the specific capstone requirements as either a dedicated course or an independent project that needs to be completed and evaluated.
What is an example layout of a Capstone Project?
Here is an example of a Business Administration degree capstone project layout:
Advancing Operational Excellence in Community Enterprises
Purpose
Our primary goal in this endeavor is to bring the theoretical world of business management into the practical realm. This involves assessing the operations of a community business, pinpointing areas that could benefit from enhancements, and devising innovative strategies that could bolster efficiency and economic performance.
Summary
While small enterprises form the lifeblood of the economy, they often don't have the luxury of comprehensive operational inspections. This venture delves deep into the internal workings of a local business, scrutinizing everything from the supply chain and stock management, through to customer relations and promotional activities. The investigative findings will then serve as the foundation for a robust set of actionable recommendations aimed at boosting operational effectiveness and driving business growth.
Approach
Business Selection: The initial phase is to scout for a small business in the local area that is open to collaboration. The choice of business could range from a quaint family-run eatery to a neighborhood bookstore or any other community-oriented venture.
Data Accumulation: The subsequent stage, post business selection, involves the systematic gathering of pertinent data. This might encompass sales metrics, inventory logs, financial reports, client feedback, and any other information of relevance.
Data Dissection: The amassed data will be meticulously examined to uncover any potential problem areas or opportunities for enhancement. This scrutiny could encompass the financial health of the business, operational effectiveness, customer contentment levels, and its competitive standing in the market.
Solution Proposition: Drawing from the insights gained from the data analysis, this stage will involve the proposition of remedies to optimize business operations. This could mean tweaks to the supply chain, the adoption of advanced technologies, staff development initiatives, marketing strategy modifications, and more.
Solution Deployment and Review: Given the business owner's approval, some of the suggested improvements could be put into practice and their effects tracked over time.
Project Documentation: The project's concluding phase will be the creation of a comprehensive document capturing the investigative insights, proposed enhancements, and the outcomes of any implemented changes, where relevant. This report will serve as a testament to the student's grasp of business management theory and their ability to adapt it to real-world scenarios.
We hope this information has provided clarity and guidance as you navigate this important aspect of your college journey. Good luck with your academic endeavors and the pursuit of your future goals!
Frequently Asked Questions
How long does a capstone course typically last?
The duration of a capstone course can vary depending on the institution and program. In some cases, it may span a single semester, while in others, it could extend across multiple semesters or be integrated throughout the entire senior year. It's essential to review your college's curriculum and consult with academic advisors to determine the specific timeline for your capstone course.
Can I choose my own capstone project topic?
In many cases, students have the opportunity to select their capstone project topic within the parameters set by the program and faculty. This allows you to explore an area of interest or align the project with your career goals. However, the availability of choice may vary among institutions and programs, so it's important to clarify the guidelines and requirements with your professors or academic advisors.
Are there any prerequisites for taking a capstone course?
Prerequisites for capstone courses can vary depending on the college and program. Some institutions may require students to complete specific coursework or reach a certain academic standing before enrolling in a capstone course. It's crucial to review the prerequisites outlined in your program's curriculum or consult with your academic advisors to ensure you meet the necessary requirements.
How can I make the most of my capstone course experience?
To make the most of your capstone course experience, consider the following tips:
Choose a project topic that genuinely interests you and aligns with your academic and career goals.
Establish clear communication and maintain regular contact with your capstone advisor or instructor.
Plan and manage your time effectively to ensure timely completion of milestones and deliverables.
Seek feedback from peers, faculty, and professionals in your field to enhance the quality of your project.
Embrace the opportunity to learn and grow, approaching the capstone course as a chance to showcase your knowledge and skills.