Resources
Our primary goal is to help you pay for higher education while navigating a perplexing financial aid application process. Our scholarship search delivers suitable awards right to you, putting college cash at your fingertips. But we do more than just offer great scholarship opportunities – we're also here to help you get into, prepare for, and adapt to college. We constantly expand our library of resources to cover all aspects of college life and the preparation required while in high school to get yourself ready for college. Browse through our resources for useful tips and advice that can make you comfortable for the college transition. While the transition from high school to higher education isn't easy, there are ways to prepare to alleviate some stress. Download and print any of our sources below:
5 Steps to a Successful Scholarship Search
This handout helps students step-by-step through the scholarship search to help them get the most financial aid possible for college.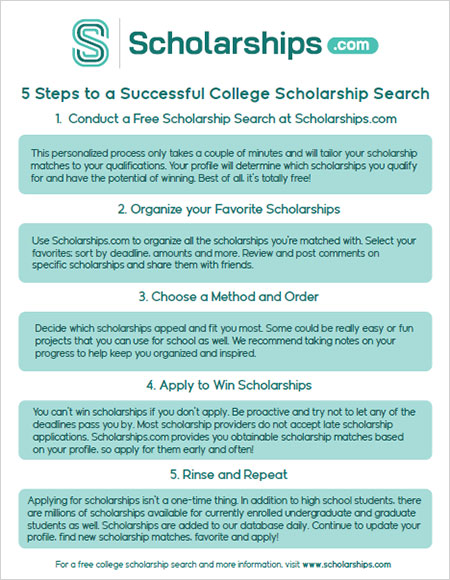 5 Steps to Write a Standout College Scholarship Essay
Need some essay guidance? Follow these five simple steps in creating a winning scholarship essay and you will be on your way to winning free money for college.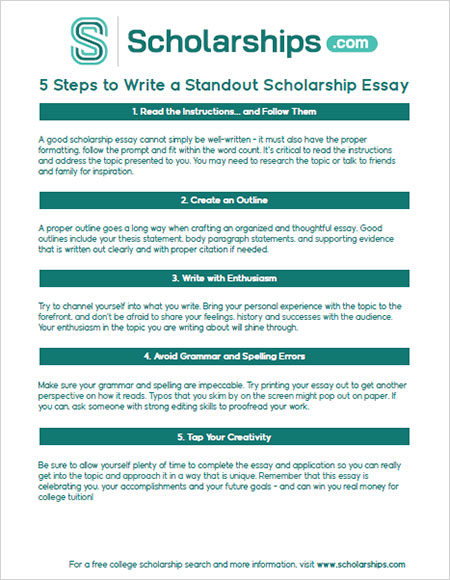 This basic college prep guide illustrates the things you should know and look for when it comes to researching, selecting, and applying to colleges.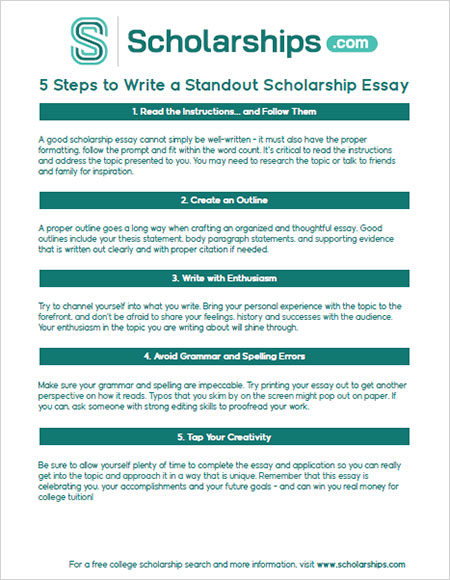 What are the most important things to know about the college and scholarship search and application process? This handout has the answers!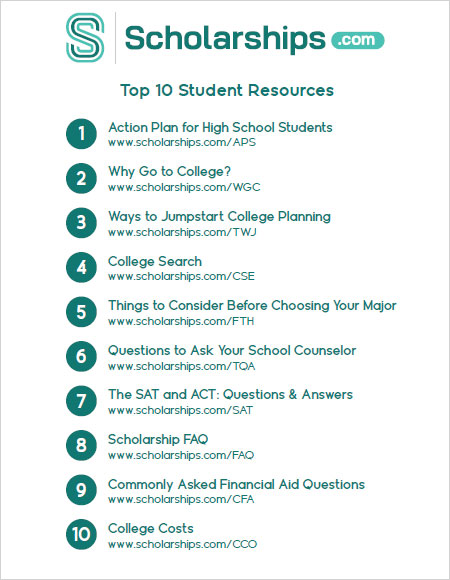 Scholarship Deadline Calendar 2022-2023
This calendar features dozens of critical scholarship deadlines. Students have a lot on their minds - this handout will make sure they never miss a test date.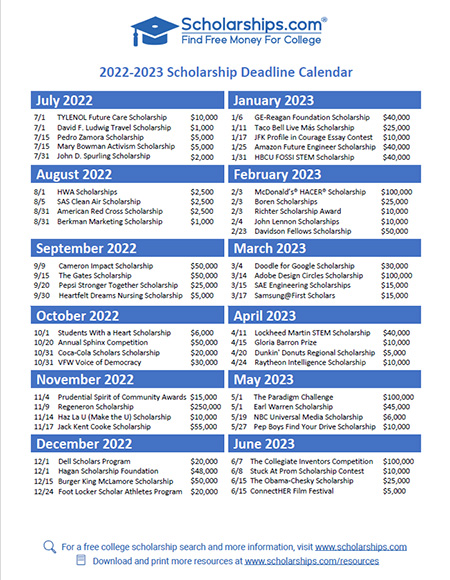 Scholarship Application Checklist
With this checklist, you can be sure to receive the best possible financial aid package by having all the necessary financial aid paperwork and hitting the important deadlines.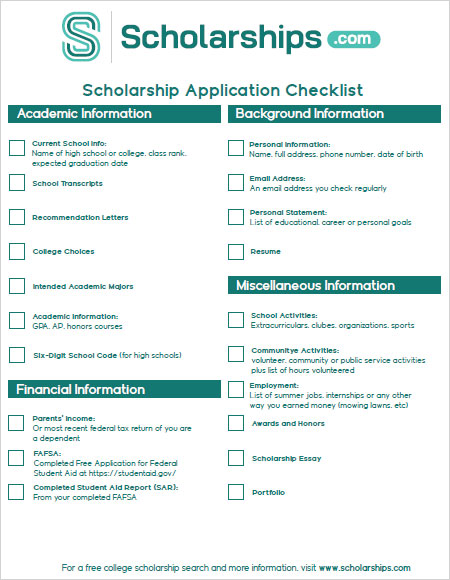 This checklist helps you stay on top of college application paperwork for their top colleges and universities so that they never miss a task or deadline.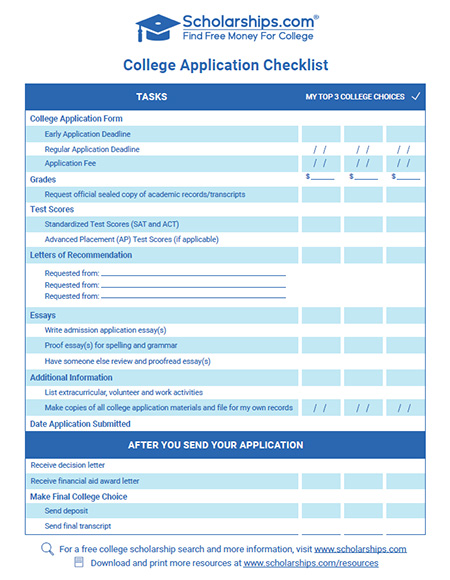 Students can print this one-page handout to stay on track with their college applications, tasks, and deadlines. Click below to download and print a copy today!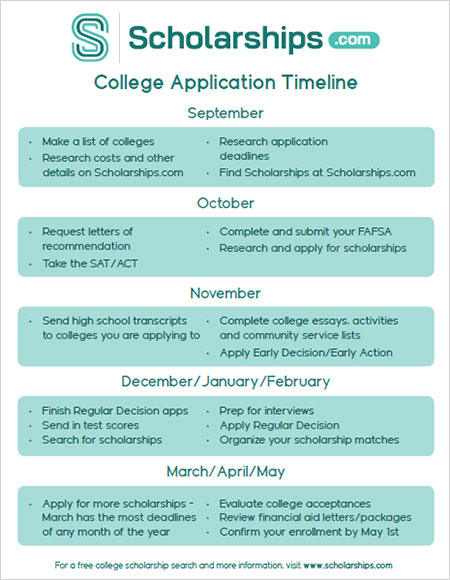 Once you're actually on campus, there will be many things to get accommodated with. If you're not sure what to expect of that first year in college, worry not – we have advice from understanding "the college lifestyle" to the basics of college cooking and preparing for roommates and communal living. If you plan on balancing work and college to pay your way through school, we have advice on that as well, plus some information on money management. We know what it's like to live on a college student's budget and while it is tough, it's possible to manage without accruing credit card debt. Knowing what to expect before you get on campus is a good strategy that will leave you with more time to get excited about the college experience rather than worry about it. Below are some of the topics covered in our "Campus Life" section:
College prep begins before arriving to campus, as early as when you're in high school. Beginning the college-planning process early will give you a sense of expectations in your college search and what you need to do to get accepted to your dream school. We have tips on applying and preparing for college, choosing the right school, Knowing what is expected of you ahead of time will lessen the burden when contemplating big decisions such as your prospective college, intended major(s), and post-graduation plans. choosing a major, and registering for the courses most relevant to you. Below are some of the topics covered in our "College Prep" section:
Whether you're still in high school, already in college, or looking for alternatives career options after graduation, there are endless opportunities in both public service and volunteerism. There has been an increase in student volunteering over the last few years, and the need for altruistic individuals has grown right alongside those figures. Whether you're a seasoned volunteer or new to the idea, we have resources for you. If you are seeking ways to pay for unpaid or low-paying positions, or this is your first time looking into both public service and volunteer jobs, you'll find that information in our "Public Service & Volunteering" section below:
Last Reviewed: February 2023